Following a recent report that the U.S. Energy Department is now a believer in the COVID-19 lab leak theory, Twitter dusted off some old tweets that aged like a forgotten gallon of milk in a Chevy in August. What is Twitter for, after all, if not for reminding people of their most horrendous, most self-righteous tweets?
We told you earlier about a blistering thread from Comfortably Smug, detailing the lab leak deniers. Other tweeters felt a great big bucket of comeuppance was due as well.
The breaking story from The Wall Street Journal begins:
The U.S. Energy Department has concluded that the Covid pandemic most likely arose from a laboratory leak, according to a classified intelligence report recently provided to the White House and key members of Congress.
'Most likely' came from a lab leak, they said, in agreement with the FBI (but not a number of other agencies who think the pandemic began with natural transmission).
Let's take a trip down memory lane and recall exactly how the lab leak theory was treated by those who demanded we trust them, shall we?
I'm old enough to remember when the Covid lab leak hypothesis was a right wing conspiracy theory, not the theory of the case held by a Dem administration. ⤵️ https://t.co/ebRLQFnUP8

— Drew Holden (@DrewHolden360) February 26, 2023
Long-time Twitchy favorite, Drew Holden, had the receipts back in May of 2021.
(We love to see Drew back in action! Keep him in your prayers.)
It's not that DoE has confirmed the lab leak idea – they haven't. It's that people who suggested that it *could* have been a lab leak were branded as irrational conspiracy theorists, and this report entirely validates the idea that it is a possibility worth investigating.

— Alex F. Baldwin (@VerumVulnero1) February 26, 2023
The DoE made the determination with 'low confidence' according to the WSJ story, but that's quite a bit different than 'irrational conspiracy'.
That's pretty much been the case with all things COVID.
It feels like it's become a habit of the left to believe something for ideological reasons but claim it's because of science and then use whatever means are at their disposal to suppress disagreement. https://t.co/VwNFvAP66n

— Frank J. Fleming (@IMAO_) February 26, 2023
Was it irrational to wonder if COVID was released from a Chinese lab in Wuhan that studied coronaviruses? No.
Was it irrational to questions if lockdowns were going to do more harm than good? No.
Was it irrational to question if masks actually protected people from COVID? No.
Was it irrational to be hesitant to take a vaccine that utilized a new technology? No.
Yet, all resistance to these ideas were met with people being labeled ignorant, uneducated, anti-science, racist, and hateful.
The unraveling of the claims that the lab leak was nothing more than a conspiracy is just one of many of these claims that have been falling apart as we learn more.
Speaking of suppressing disagreement …
Unbelievable. A story like this used to be banned on Facebook, and the media went along with the ban. Senator Tom Cotton was ridiculed by the Wash Post when he suggested this possibility in January 2020. And through it all, China has lied. Unbelievable. https://t.co/btoqQSuC1a

— Ari Fleischer (@AriFleischer) February 26, 2023
They used social media to suppress perfectly valid questions, such as the lab leak theory.
Democrats were more concerned with using COVID to hurt Donald Trump in the upcoming election than they were in determining what role, if any, China had in bringing the killer virus to our shores.
Never forget that scientists told Dr. Fauci at the beginning of the pandemic the virus looked engineered and he then publicly covered up the lab leak theory, and was thanked for it by Peter Daszak from EcoHealth Alliance, the company through which Fauci's NIH funded the Wuhan lab pic.twitter.com/5BB2xr6UFd

— Greg Price (@greg_price11) February 26, 2023
Experts whose opinions on the coronavirus differed from the approved talking points were labeled 'quacks', ignored or castigated by media, and silenced on social media (with urging from the government).
Why is this story so important? It shows:
1) unelected government officials have huge power to pursue dangerous agendas.
2) rather than holding them accountable, corporate media cover for them.
3) tech censorship ends up promoting rather than suppressing "disinformation."

— David Sacks (@DavidSacks) February 26, 2023
Every bit of this.
At a time when the country truly did need to come together, government and media created a level of distrust that did not serve America's best interest while its citizens were being killed by COVID-19.
Welp. The behavior of a certain cadre of scientists who used every trick in the book to suppress discussion of this issue is something I'll never forget. A huge disservice to science and public health. They should be profoundly embarrassed.https://t.co/nZqzjrvo8F

— Nate Silver (@NateSilver538) February 26, 2023
Is embarrassment enough? These people were trusted to provide Americans with the best information on COVID.
They could have said 'We just don't know. Here's our best guess at what should be done.' and people would have accepted it, given the unique situation we found ourselves in.
Instead, we got 'We KNOW what is best. Everyone who says otherwise is a conspiracy theorist who should be shouted down and shut down, and if you don't comply, we'll try to take your jobs away.'
Real smart.
No, embarrassment is not a stiff enough penalty.
He's talking about Fauci. https://t.co/ybT1Yw6Nh4

— Stephen L. Miller (@redsteeze) February 26, 2023
Yep.
I'm embarrassed when I misspell someone's name in copy, not when I spend two years in public trying to cover up the misdeeds of a tyrannical government that spread a deadly plague around the world https://t.co/Dv5X1pMsT3

— Joe Gabriel Simonson (@SaysSimonson) February 26, 2023
Putting too many 'ha's in 'Bwahaha' for a Twitchy article suddenly doesn't seem so bad. (Bwahaha!)
The New York Times reporter who is currently responsible for covering the coronavirus pandemic, the World Health Organization and the Centers for Disease Control and Prevention. pic.twitter.com/7nvN60L8OY

— bartleby (@ElderBartleby) February 26, 2023
Not only were you a conspiracy theorist, you were a racist for suggesting that a virus that came from Wuhan China might have come from a lab in Wuhan China.
In a public health crisis, conspiracy theories are a distraction. It's our collective responsibility to stay focused on keeping each other safe.

And no, #coronavirus did not start in a Chinese lab, @juliaoftoronto writes. https://t.co/cfm9Mi6mqz

— Vox (@voxdotcom) March 11, 2020
Replaying one of the Vox classics.
Have any of them ever considered that media and government sowing distrust by performing their jobs so poorly directly contributed to people not being safe?
And a current President completely uninterested in any of it. His party never held public hearings or briefings on it when they had the majority for the past two years. Now ask why. https://t.co/TRNBx4Uw8b

— Stephen L. Miller (@redsteeze) February 26, 2023
This would be a good place for a Biden eating ice cream gif.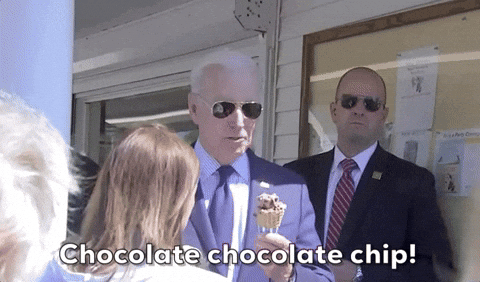 That's better.
The virus leaked from a lab in China and the Chinese government lied about and instead of going after them our media attacked Americans and called them racist and tried to demonize them for questioning the origins

Enemy of the people

— Ahmed Al Assliken (@assliken) February 26, 2023
Enemy of the people, indeed.
Virus leaks from China laboratory = racist

Virus spreads because filthy Chinese nationals can't stop snacking on the house beagle in public markets = Not racist https://t.co/RR5XIp8fu8

— Stephen L. Miller (@redsteeze) February 26, 2023
LOL.
Content creator Hotez is on cleanup duty after revelations that the coronavirus may have leaked from a lab.

He should be ignored as a political or medical commentator, stripped of his medical license, and investigated for any ties to China that may have compromised his opinions. pic.twitter.com/T9nSwjZCdT

— this Max guy (@MaxNordau) February 26, 2023
This applies to way too many people.
https://t.co/5vv3aN6Wnk pic.twitter.com/cOjizpHzOs

— Noam Blum (@neontaster) February 26, 2023
Uh oh, Howie, perhaps an incurious professor castigating a U.S. Senator for wanting to learn the truth about a virus that infected Americans is the 'dangerous' one.
Re. China's lab leak, being proven right doesn't matter.

What matters is holding the Chinese Communist Party accountable so this doesn't happen again.

— Tom Cotton (@TomCottonAR) February 26, 2023
For his part, Tom Cotton remains where he was in February of 2020, after being smeared by the press – wanting to get to the bottom of China's involvement.
https://t.co/CrkJkMSGws pic.twitter.com/Ib80PDKWAt

— siraj hashmi (@SirajAHashmi) February 26, 2023
Who could have seen it coming?
Let's circle back, Glenn. https://t.co/e3MyAs8JQy

— Anna James Zeigler (@ajzeigler) February 26, 2023
Twitter really let WaPo's fact-wrecker, Glenn Kessler have it.
"scientific animation" is an all-timer https://t.co/MYttZaXVp2

— Aelfred The Great (@aelfred_D) February 26, 2023
Yes, yes it is.
Documenting Glenn Kessler's BIGGEST MISS ever:

Today, the Wall Street Journal reported, "Lab Leak Most Likely Origin of Covid-19 Pandemic."

But in 2020, Kessler tweeted: "I fear @tedcruz missed the scientific animation in the video that shows how it is virtually impossible for… https://t.co/j7PILxmWGk pic.twitter.com/10GQYmXsex

— Steve Guest (@SteveGuest) February 26, 2023
'We deal in facts' he said. LOL.
Remember how aghast @StephenAtHome was? https://t.co/1Bxygao2u3

— jimtreacher.substack.com (@jtLOL) February 26, 2023
Colbert was one of the big late-night televangelists for the approved COVID narrative.
wow, how long have @StephenAtHome and @thedailybeast been working for the CCP? pic.twitter.com/pxHP1rIyJ7

— siraj hashmi (@SirajAHashmi) February 26, 2023
The whole time, apparently.
It sure feels like conventional wisdom is catching up to where the conspiracy theorists were two and a half years ago. pic.twitter.com/5QifGTGc1j

— Tᴏɴʏ! Tᴏɴɪ! Tᴏɴᴇ́! 𝚂𝚝𝚊𝚛𝚔 (R.I.P.) 🕙 (@StarkTTT) February 26, 2023
That's what happens when you mobilize government and media to pretend that valid inquiries are the ramblings of lunatics. Eventually, the truth comes out.
Literally every conservative "conspiracy theory" comes true within 6 months to a year. https://t.co/F8cgXb5Lot

— Kevin Tober (@KevinTober94) February 26, 2023
Maybe next week we'll find out Rachel Maddow and Chris Hayes really are the same person.
***
Join us in the fight. Become a Twitchy VIP member today and use promo code SAVEAMERICA to receive a 40% discount on your membership.
To change your comments display name, click here.