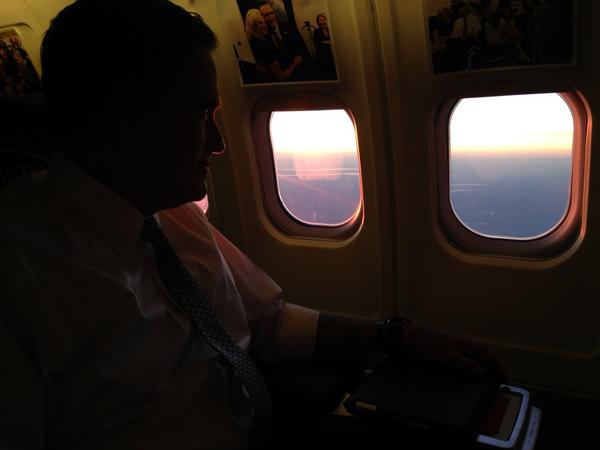 Beautiful. Mitt Romney's body man has provided many photos and touching moments throughout the campaign. And this final night is no exception.
Here is a little look into some more of Mitt Romney's day, in pictures, showing the man and not just the candidate.
Amazing pic RT@mattyhoyeCNN: Mitt Romney smiles and waves at the media as he heads off to his final Ohio campaign stop. pic.twitter.com/QJKvsBqg

— Rachel Streitfeld (@streitfeldcnn) November 6, 2012
Gov talks to the media on the plane. #RomneyRyan2012 pic.twitter.com/xKFznSAq

— Garrett Jackson (@dgjackson) November 6, 2012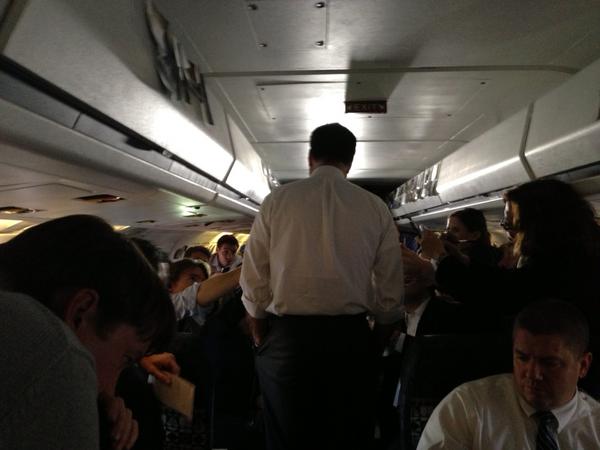 https://twitter.com/hollybdc/status/265942765697912832
The Gov's last peanut butter and honey sandwich aboard Air Romney. Would love to know how many we ate over time pic.twitter.com/bZQ5hHgy

— Garrett Jackson (@dgjackson) November 6, 2012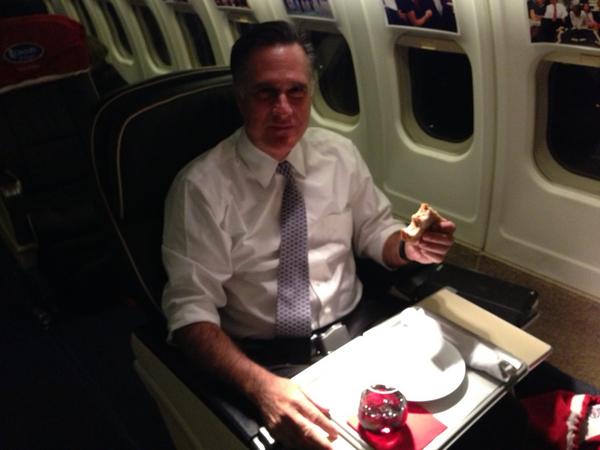 RT @GarrettNBCNews: Romney, emotional as he waves to the crowd in Pittsburgh. "That's when you know you're gonna win." http://t.co/P9vbMU4W

— Zac Moffatt (@ZacMoffatt) November 6, 2012
Just landed after our final flight on Air Romney. Sad to leave the plane, it's been my home for the past few months.

— Garrett Jackson (@dgjackson) November 6, 2012
Thank you for sharing it with us all, Mr. Jackson. And thank you for sharing your humanizing moments with Mitt Romney, the good and decent man.
And they have arrived in Massachusetts for the final night.
View from press bus of Romney motorcade through tunnel en route to Election Night in Boston http://t.co/eh9UFYij

— Jim Acosta (@Acosta) November 6, 2012
It's been an amazing campaign and as we get ready to land in Boston just wanted to say thank you for all the support. Now let's win! #Romney

— Rick Gorka (@Rick_Gorka) November 6, 2012
Make it happen, America.