The Los Angeles Police Department was responded to reports of a shooting on the campus of USC late Wednesday night.

LAPD sources said the incident occurred outside a Halloween party and that at least one person was injured. It's unclear if either the victim or the gunman were students at USC.

The condition of the victim was not immediately known.
The daughter of "Shield" star Michael Chiklis is OK:
Information about the shooter/shooting is still scarce. @neontommy has a few more details:
The suspect fled toward Exposition Boulevard, just south of the campus center. He was wearing a white baseball shirt with red sleeves.

A pair of Neon Tommy reporters in the Campus Center courtyard at the time reported that didn't hear gunshots, but "a mob people" fled from the main campus center building. The Campus Center contains a study area beneath on the entrance floor. In the basement level are the student radio station, a campus bar, a small concert venue adjacent to the bar and a grand ballroom.

The concert venue, Tommy's Place, listed on its website a "Ghosts N' Stuff: Haunted DJs" party from 9 p.m. to 11:30 p.m. Wednesday.
* * *
Update: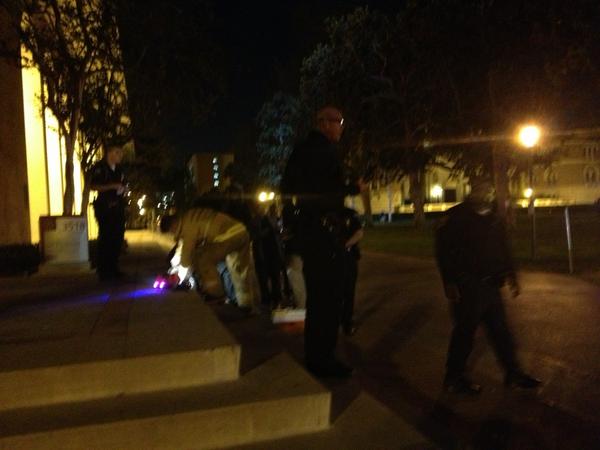 We are seeing conflicting reports as to the status of the suspect. One Twitter user says the alleged shooter has been caught and that two suspects have been arrested:
Information is still very sketchy.
* * *
Still more conflicting reports:
https://twitter.com/jmedbrooke/status/263907514486243329
* * *
A fourth victim has reportedly been located:
* * *
There was another shooting at a Halloween party in Hollywood tonight. Unclear if the two shootings are related.
* * *
Doesn't sound like the primary suspect has been arrested:
* * *
None of the victims were USC students?
* * *
The LA Times has an eye-witness account of the shooting:
A USC student, who asked not to be named, said a student group was hosting the party and that it was at maximum capacity. The witness said there were about 100 people outside — as well as some campus police — when at least four shots rang out.

"Everyone started running. I saw a guy who was shot in the leg. He was limping and screaming for his friends to help him. 'I got shot. can someone give me a ride.' his friends were helping him walk," the witness said. "People were screaming and running away."
* * *
As noted above, it seems as thought the primary suspect is still at large, but at least one person was arrested:
https://twitter.com/FlackThought/status/263908694054563841
* * *
LA Times using Twitter to locate on-campus sources:
https://twitter.com/StephSayinStuff/status/263908227404681216
* * *
@USC finally reports the shooting, says suspect is still at large.
What took them so long?
* * *
Shooting suspect is still on campus?
https://twitter.com/hess_a/status/263912043659276288
* * *
Related post: Unconfirmed: Twitter identifies former football star Geno Hall as victim of shooting
* * *
Primary suspect is now in police custody?
* * *
* * *
Our thoughts are with the victims.
***
USC confirms that the suspect is now in custody.
To change your comments display name, click here.