BuzzFeed senior copywriter Josh Fjelstad went silent on Twitter today after deleting the super classy evidence of his oh-so-enlightened tolerance directed at gay conservative group GOProud.
"WOW GOPROUD FINALLY CAME OUT IN SUPPORT OF GAY MARRIAGE. SO PROGRESSIVE. SO PROUD OF YOU. SUCK MY DICK," he tweeted, along with a link to a BuzzFeed post about GOProud's adoption of a pro-gay marriage resolution. The resolution supports the right of each state to define marriage and calls for decisions to be made via referenda or legislation rather than judicial activism.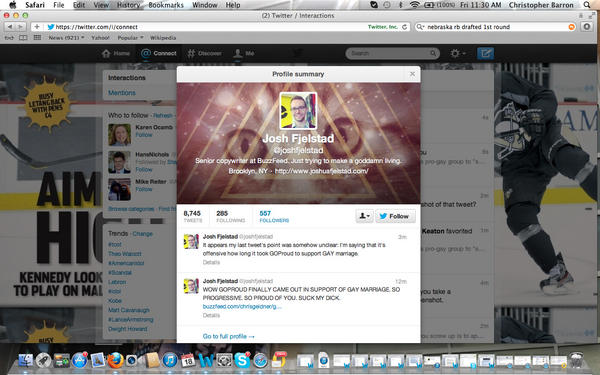 The tweet was also archived by the automated Twitter aggregation service Topsy.
Great argument, Josh! Changing hearts and minds, one "suck my d*ck" at a time.
He followed up with another since-deleted tweet: "It appears my last tweet's point was somehow unclear: I'm saying that it's offensive how long it took GOProud to support GAY marriage."
* * *
As for Chris Barron, he'll pass:
* * *
And a good question from GayPatriot:
* * *
GOProud's Executive Director Jimmy LaSalvia told Ali Akbar, "It is not an appropriate tweet from someone who is a senior copy writer at BuzzFeed. I was under the impression that BuzzFeed was a news outlet."
So true:
BuzzFeed breathlessly covers Ole Miss 'riot' over Obama win; Students, local media debunk
BuzzFeed called out on false 'Ryan walks out on interview' headline, Obama campaign spins
BuzzFeed 'reporter': Romney helping a dying boy sure is icky and morbid; The decent set him straight
Lapdog at BuzzFeed 'reports': 'Romney just passed a confederate flag'; Ace of Spades pounds
BuzzFeed highlights attacks on Sandra Fluke with tweet targeting … Dana Loesch
BuzzFeed lets bias show again; 'Stop running ads linking us to death of woman, you installer of death panelers'
BuzzFeed: Conservative media totally stoking 'race war'; 'Just bloggers' mock, debunk
Buzzfeed reporter omits important chunk of Rupert Murdoch tweet; Update: Reporter failed to tell full story about himself
Buzzfeed uses liberals' tweets to portray conservatives as stupid
Hat tip: Viral Read
Recommended Twitchy Video