Sen. Chuck Schumer and his Democrat buddies are swamped these days, what with constantly having to think of new ways to subvert the Second Amendment. So, in order to make his job a little easier and focus on the task at hand, Schumer is calling on gun retailers to suspend sales.
It's really not a big deal, though. See, Chuck figures that if Congress decides to limit access to legal firearms, then all those sold firearms will just be pain's in the government's neck. And that's no fun.
https://twitter.com/1_Eagle/status/290700615846342657
So, don't engage in legal firearm sales until we figure out a way to make those sales illegal!
Chuck Schumer asks Walmart not to sell guns until Obama can find a way to outlaw the sales of guns. Looks like Walmart will not reorder ammo

— onesoldiersmom (@onesoldiersmom) January 14, 2013
https://twitter.com/ECWieder/status/290851303444336641
Gotta love liberal logic.
Good ole Chuck Schumer wants to take our guns away! See what he does in his spare time! #tcot #tlot #pjnet pic.twitter.com/ZlyERGcf

— M.E. McRider (@BikinInMaine) January 14, 2013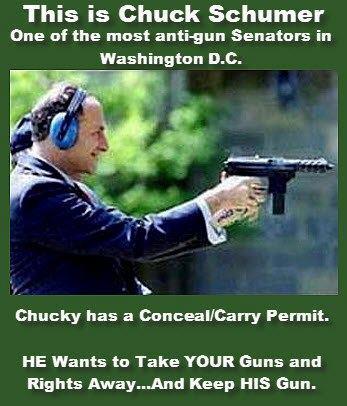 NY Sen Schumer wants gun retailers to halt sales. Yes, this govt is after the 2nd amendment & all of you who "bitterly cling to your guns"!

— The Growling Panther (@growlingpanther) January 14, 2013
NY Senator Chuck Schumer asking WalMart to stop selling guns while debate on Guns is going on
This is crazy who do the DEMS think they are

— Patricia Morlen (@Morlen4Distrct1) January 14, 2013
Schumer Asks Gun Retailers To Stop Sales As Congress Debates.SURE LETS JUST THROUGH OUR HANDS UP IN DEFEAT ALREADY.

— TONY BILOTTO (@308saiga) January 14, 2013
Senator Schumer asks gun shops to stop selling guns. Funny, because Politicians are the reason why guns continue to fly off the racks.#Tcot

— Armed American (@USP_Compact) January 14, 2013
So, Senator Schumer wants gun retailers to stop sellling guns while Congress determines our fate!!! Anyone think they should stop? #buynow

— Chris Wilgeroth (@cwilgeroth) January 14, 2013
Hey Chuck Schumer, why don't you just ask the criminals to voluntarily give all their guns back? #dumbassery

— kentuckyHunter (@MasonDixon81) January 14, 2013
Hey, now there's an idea.
To change your comments display name, click here.