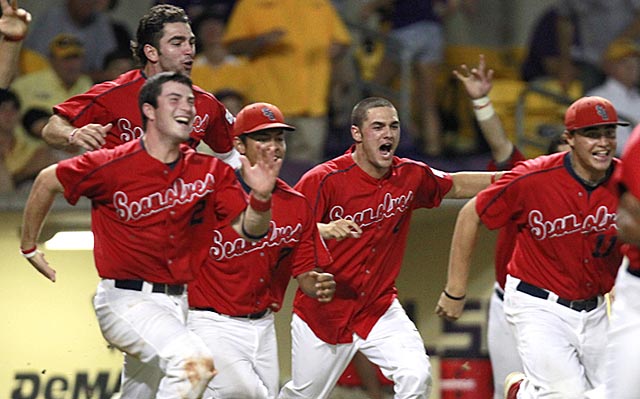 The LSU baseball program, a perennial powerhouse in college baseball, fell victim to the Stony Brook Seawolves on Sunday night when they fell 7-2.
Frankie Vanderka tossed a complete game three-hitter to help the Seawolves advance to their first College World Series.
For those itching for that March Madness fix, this might be the next best thing in the meantime.
Very proud of my alma mater for beating LSU ad making it to the college world series!! Let's go Stony Brook!!!

— Dana Zambrano (@DanerZ123) June 11, 2012
https://twitter.com/JaeODraftpick/status/212176833683267584
As somebody who used to cover a lot of college baseball in the Northeast, what Stony Brook is doing is truly amazing

— Pete Abraham (@PeteAbe) June 11, 2012
Stony Brook didn't only win. They won two must-win games and they won on the road and held LSU to 3 hits. Really, really amazing

— Pete Abraham (@PeteAbe) June 11, 2012
Going to guess that Stony Brook is the first team to make the CWS after losing to Albany, Yale, Holy Cross (twice) and Binghamton (twice).

— Tim Reynolds (@ByTimReynolds) June 11, 2012
Two of the three judges from last night say LSU scored more runs than Stony Brook in Game 3.

— Tim Reynolds (@ByTimReynolds) June 11, 2012
Stony Brook going to CWS bigger Cinderella than Butler or VCU in Final Four. When's last time a northern team went, much less the Seawolves?

— Michael Pointer (@michaelpointer) June 11, 2012
Stony Brook in the CWS cannot be repeated too many times

— Peter Gammons (@pgammo) June 11, 2012
very excited about Stony Brook U. walloped powerhouse LSU and headed to omaha for college WS. #nofluke #theyregood

— Jon Heyman (@JonHeyman) June 11, 2012
Always proud to be a Tiger. Win or Lose. #TigerNation

— LSU Problems (@LSU_Problems) June 11, 2012