One, two, bedazzled cat's coming for you:
Twitter seems to agree that the silver bedazzled tiger under the Cuomo/Lee tree is the best part of that hot mess.

— Kate Nocera (@KateNocera) December 5, 2012
Hot mess? New York Gov. Andrew Cuomo's Christmas tree can't be that bad, can it?
The Twitterverse says, "Yes. It. Can." Behold the holiday horror Cuomo's girlfriend Sandra Lee flaunted on Twitter last night:
Merry Christmas! Our tree just went up! So exciting. Happy holidays pic.twitter.com/fZW2npPY

— Sandra Lee (@SandraLee) December 5, 2012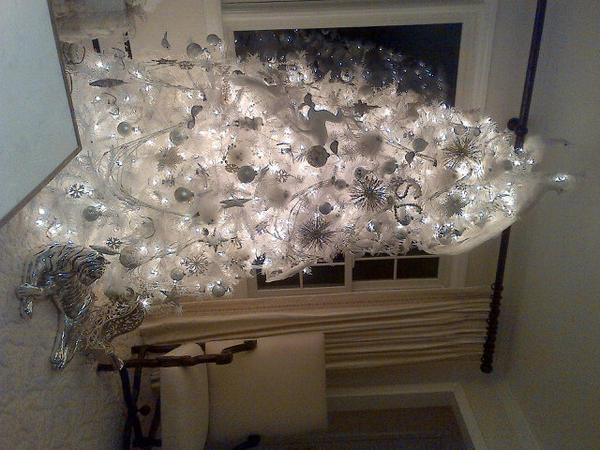 Idk what's bigger abomination, ugly tree or that the pic is sideways. MT @KateNocera This is the tree Cuomo & gf put up pic.twitter.com/6tWjK4Hm

— Maggie Chan (@_maggiechan) December 5, 2012
Um … is this better?
https://twitter.com/_Alex_Casey/status/276352231702425600
What, doesn't everyone have a sparkly silver tiger guarding the family Christmas tree?
Gov. Cuomo's Christmas tree is one hot mess. pic.twitter.com/QxjMnIGy

— Tom Lyden (@LydenFOX9) December 5, 2012
God, what an eyesore! RT @gabrielleisback Cuomo, you're drunk. Or your tree is. Probably both.

— Jory Heckman (@jmheckman) December 5, 2012
I am unapologetic about my crush on Gov. Cuomo. But that is the ugliest effing tree I have ever seen. I just want to throw paint on it.

— LIZZY (@lizzyhascats) December 5, 2012
https://twitter.com/benhjacobs/status/276185846389043200
The Cuomo/@SandraLee all-white Christmas tree. Unicorn and silver tiger sold separately. pic.twitter.com/jBImLRHb

— Danny Hakim (@dannyhakim) December 5, 2012
& its #hideous! MT @hunterw We confrmd Gov #Cuomo's Xmas tree tiger statue is a D'Argenta lmtd edition tht sells 4 over $4,000

— Elizabeth Saab (@ElizabethSaab) December 5, 2012
Silver-plated reclining tiger: $4,432.80.
Knowing you haven't shared your worst Christmas tree ever with the Twitterverse: priceless.
Related:
Oh, my: Sandra Lee wants to 'educate the uniformed' about 'aides' on 'World aides day'