The shameless narcissist in chief is at it again.
President Obama delivered a eulogy for Hawaii Senator Daniel Inouye at the National Cathedral Friday morning. As is his wont, President Me-Me-Me yammered on about his favorite subject: himself.
Obama recalls monthlong family vacation to mainland when he was 11, and family tuning in to Watergate hearings. Inouye captivated him most.

— Star-Adv Politics (@starpolitics) December 21, 2012
All about him RT @markknoller: Pres Obama speaks of boyhood memories of learning about democracy watching Sen Inouye at Watergate hearings

— MirCat (@TRMirCat) December 21, 2012
Inouye's presence in the Senate "hinted to me what might be possible in my own life," Obama says in eulogy

— Jennifer Epstein (@jeneps) December 21, 2012
Obama on Inouye: "As someone who has been privileged to live in Hawaii, I know he embodied the very best of … aloha"

— Jennifer Epstein (@jeneps) December 21, 2012
POTUS: "I think it's fair to say that Danny Inouye was my earliest political inspiration." Now speaking at National Cathedral service.

— michael viqueira (@mikeviqueira) December 21, 2012
Video at Gateway Pundit:
UNREAL. Obama Uses Sen. Inouye's Funeral to Drone On About Himself For 10 Minutes (Video) http://t.co/pSm6jzKE via @gatewaypundit

— Jim Hoft (@gatewaypundit) December 21, 2012
The president's inappropriate focus on himself during the memorial service did not escape the notice of the Twitterverse.
Obama speaking at Sen. Inouye's funeral — and he's talking about himself. #typical

— toddstarnes (@toddstarnes) December 21, 2012
https://twitter.com/nevamari/status/282165866924232705
President Obama is currently giving Senator Inouye's eulogy. What's he talking about? Himself, obviously. I can't watch this.

— Seth (@rsethib) December 21, 2012
What an embarrassment! #Obama opens remarks at #Inouye service talking all about himself, incl summary of family vacation. What a fool!

— teriobrien (@teriobrien) December 21, 2012
https://twitter.com/maciverjohn/status/282166955102842880
Summary of Obama's eulogy (in case you missed it): Sen. Inouye is gone, but hey, I'm still here! Also, I've always loved vacation.

— Holly Renee (@_Holly_Renee) December 21, 2012
#ObamasEulogies: JESUS, could #Obama be taking any longer to get to the point about Sen. Inouye? Even in death it's always about him #tcot

— Duh_Progressive (@Duh_Progressive) December 21, 2012
"@LegInsurrection: Obama eulogy for Daniel Inouye all about Obama" me, me, me, I, I, I, uh,uh,uhh…

— Betty Ruth (@Betty_Ruth) December 21, 2012
This is a funeral for Sen. Inouye. Obama can't stand it not being about him, so he is making it about him!

— Jo Anne moretti (@JoAnneMoretti) December 21, 2012
https://twitter.com/rsmccain/status/282166395037433856
President Obama honors Sen. Daniel Inouye by talking about his own family vacations. Why is he like this?

— Tony Katz (@tonykatz) December 21, 2012
As always, it's all about him. And it wasn't even the first time today:
Photo: President Obama & staff observe a #MomentForSandyHook in the Oval Office today at 9:30 a.m. ET: pic.twitter.com/WFP78mG3

— The White House (@WhiteHouse) December 21, 2012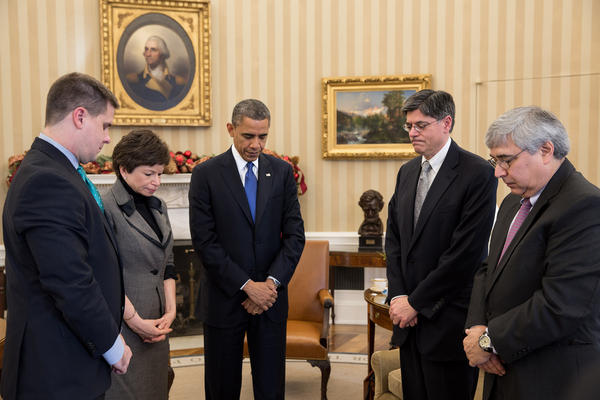 To change your comments display name, click here.