Instead of draining the swamp, the House Ethics Committee decided to guzzle the fetid water today. Politico reports that Democratic Rep. Maxine Waters will not be charged with ethics violations for her corrupt cronyism.
Why drain the swamp when you can let it fester?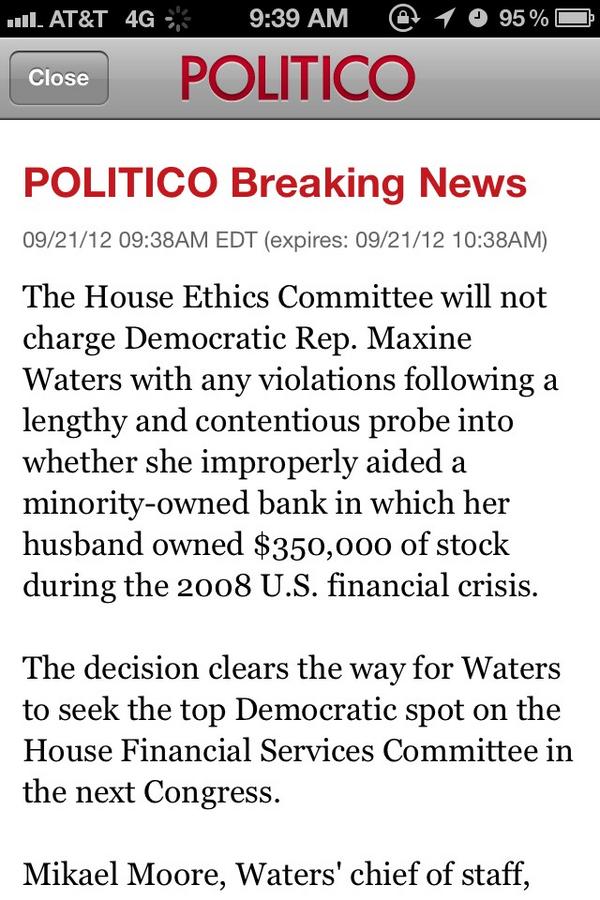 Absurd.
More from the Associated Press:
At a meeting Friday, House Ethics Committee members said they found no violations in their investigation of allegations she steered a $12 million federal bailout to a bank where her husband owns stock. Waters is a senior Democrat on the Financial Services Committee.

The committee, however, said Waters' chief of staff, Mikael Moore, did take actions in Congress in an attempt to help the bank and violated standards of conduct. Moore likely will receive a letter admonishing him for his conduct. but will not face more severe punishment, such as a reprimand, by the full House.
Moore finds the ever-so-strongly worded letter a "difficult pill to swallow."
Twitchy will update with any breaking developments.
Update:
For a reminder of the charges against Waters and her obscene excuses: