As Twitchy reported, New York's state senate late last night voted to pass a set of sweeping new gun regulations that one senator called "the toughest gun control package in the nation." Wasting no time, today the New York State Assembly approved the package by a 104-43 vote and immediately passed it along to Gov. Andrew Cuomo for his signature.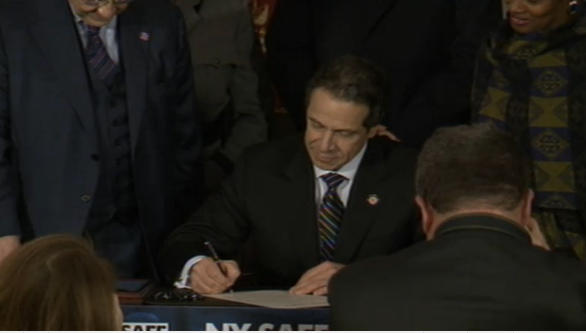 The legislation expands the state's assault weapons ban and prohibits semiautomatic pistols and rifles "with detachable magazines and one military-style feature, as well as semiautomatic shotguns with one military-style feature." Citizens who already own guns prohibited by the new law will be required to register them with the state. The legislation also includes a so-called "Journal News" clause allowing citizens to opt out of having their status as gun permit holders publicized.
Cuomo signed the bill at an afternoon ceremony attended by several mayors from across the state, including New York City Mayor Michael Bloomberg.
Critics of the package weren't so impressed with the speed of its passage.