The suspense! Usually, lawmakers exit a closed door meeting and head straight for the TV cameras. House Speaker John Boehner and Minority Leader Nancy Pelosi were uncharacteristically quiet leaving their fiscal cliff meeting with President Obama this afternoon, but Pelosi's getaway was anything but clean. Reporters anxious for a scoop managed to catch Pelosi searching the parking lot for her SUV.
Ok, pelosi can't find her car. Seriously.

— HansNichols (@HansNichols) December 28, 2012
Just what was going on in there? Must have been some intense negotiations.
https://twitter.com/Peter_Eller10/status/284771403071373312
@HansNichols That's a fiscal cliffhanger… Did she find it?

— Josh Glasser (@JoshGlasser) December 28, 2012
@HansNichols LEADERSHIP.

— #AgainstTrump (@WBH_Politics) December 28, 2012
CNBC showing Pelosi wandering aimlessly around a parking lot looking for her car. no deal. #shocker

— Prudence Paine (@PruPaine) December 28, 2012
Pelosi can't find her car. Nobody tell her it went over the fiscal cliff and insurance isn't covering the damage.

— AG (@AG_Conservative) December 28, 2012
Nancy Pelosi, looking for her car pic.twitter.com/8QmjREB0

— Ethan Klapper (@ethanklapper) December 28, 2012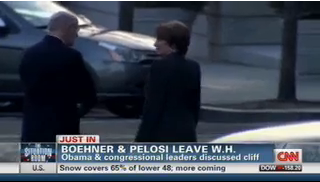 I am currently watching Pelosi search for her car on CNN hahahah love it

— Sara Kenigsberg (@skenigsberg) December 28, 2012
@soopermexican @JoshuaGreen @HansNichols I'd help her find it, but I'm busy sippin' on a Slurpee, watchin' Obama drive us out of the ditch.

— Cask Strength (@ChampionCapua) December 28, 2012
Seriously, has anyone seen it? It has the giant novelty gavel on the roof.
She had to pass the car in order to find it RT @BuzzFeedAndrew Did Nancy Pelosi ever find her car?

— Steve Everley (@saeverley) December 28, 2012
Oh, in other news, no one else looked happy exiting from that meeting, either. Not even Sen. Harry Reid looked happy — not that we'd know what that looks like.
All four congressional leaders have now left the WH without making any statement. Majority Leader Reid looked downtrodden.

— Mark Knoller (@markknoller) December 28, 2012
It looks like Boeher had his ride ready to go, and he's not coming back.
Boehner staffers arrived back at the Capitol and said @SpeakerBoehner is not coming back here today.

— Frank Thorp V (@frankthorpNBC) December 28, 2012
Dang, that was quick!
https://twitter.com/zoeythegreat/status/284777776379224066
To change your comments display name, click here.