Santa Claus is making his way around the world, taking care to stop his sleigh in every country. But according to several anti-Israel Twitterers, St. Nick is going to have a rough time in the Holy Land thanks to big, bad Israel.
Even #Santa is fighting the #Israeli Occupation. #FreePalestine http://t.co/UhNEhhuZ #Palestine

— Daleen Elshaer (@daleen_elshaer) December 20, 2012
Santa Claus in state of Palestine http://t.co/BN0iSUSk #Palestine #Israel #MerryChristmas #tpot #Obama #USA #Jesus #EU #Christianity

— Joel Benda (@JoelBenda1) December 24, 2012
https://twitter.com/_Daktari_/status/283053256589078528
Santa Claus is coming to town…unless if you're living in Palestine. #Israel has denied his entry. #MerryChristmas

— Haneen (@HaneenAmra) December 24, 2012
@iRevolt
Merry Christmas from #Palestine, where even Santa resists #Israel's occupation http://t.co/Wy2og2KM #cdnpoli #tcot #p2 #christmas

— ЦПIFY (@46nd2) December 24, 2012
This is what israel does to #Santa. #MerryChristmas pic.twitter.com/2lHlexwB

— Lara (@ellekay_) December 24, 2012
Only Israel would detain Santa…

"@AmiraAmra: Merry Christmas from a bleeding & occupied Palestine. http://t.co/mAWIokX9"

— hala k. nu'man (@halaknuman) December 24, 2012
Then again, I'm sure #Israel is detaining #Santa for his well-being. He does really need to go on a diet #Palestinian style #PalHunger

— hala k. nu'man (@halaknuman) December 24, 2012
Santa trying to enter Occupied Palestine 0_o @BDSsouthafrica @FarahInGeneral @Yusuf_Talia @ijassat @CfPSouthAfrica pic.twitter.com/xkeNtR3L

— Zaynulabedeen (@zaynulabedeen) December 23, 2012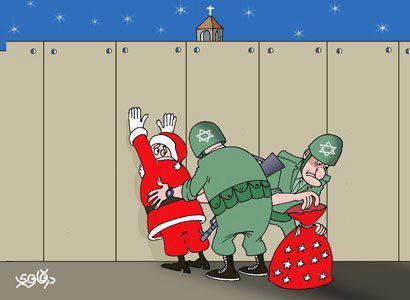 Really getting into the Christmas spirit!
To change your comments display name, click here.