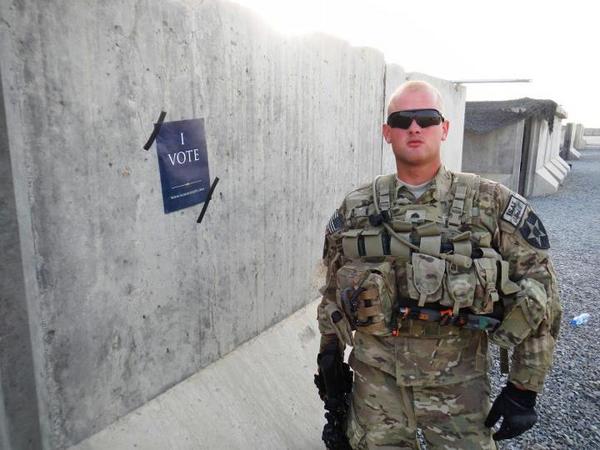 As Twitchy reported earlier today, at least 30 Wisconsin municipalities failed to send absentee ballots to members of the military before the 45-day election deadline. Absentee ballot requests are dropping in other battleground states, as well. Our men and women in uniform deserve far better. And while they may not be able to count on their local government to ensure their votes count, they can still make their voices heard.
The Heroes Vote Initiative aims to assist members of our armed forces with obtaining and submitting absentee ballots, processes which have traditionally proven difficult. Military voters and their spouses can request absentee ballots here.
It's your right! YOU fought for it! Now get off your cans and exercise it! http://t.co/PNNX7h06 Get #ElectionReady here http://t.co/RzgwcQHL

— Heroes Vote (@HeroesVote) October 2, 2012
Twitterers are already getting the word out:
Military members are voting in historic low numbers, why? Get your absentee ballots here: http://t.co/NlnOPGQ6

— Dave Briggs (@davebriggstv) September 30, 2012
RT @BankScout @slone please tweet to our service members encouraging them to request ABSENTEE BALLOT at http://t.co/JQoiiDRt #tcot #teaparty

— slone (@slone) September 30, 2012
With Election Day looming, please, share this link with all Active Military and ask that they do the same. Time… http://t.co/VaAbciBM

— T Lee Horne III (@tleehorneiii) September 30, 2012
MUST RT!!! ATTENTION: All Military Personnel: Absentee Ballots Available At http://t.co/F8dhTmjE http://t.co/VOIjTm3Y #USMilitary #Elections

— Joseph (Joe) M Ryan (@JosephMRyan1) October 1, 2012
https://twitter.com/TiffanyMcGuffee/status/253170569049165824
Please #RETWEET #ARMY #AIRFORCE #NAVY #MARINES register/request Military absentee ballot http://t.co/UldaRuFb via @HeroesVote

— el Sooper ن (@SooperMexican) October 2, 2012
Please reach out to military, your family& friends, to get their absentee ballot so they can vote in the election. http://t.co/0YfaQzNq

— lisamariemiller (@lisamariemiller) October 2, 2012
Make it a trend today. MILITARY —-> Register to VOTE online at http://t.co/xZ5FF122 or http://t.co/cySA9yuc

— KRenner (@KRenner2) October 2, 2012
We need to get the buzz going!
You know better than most, individual actions matter. Don't be silenced in Nov. Get #ElectionReady http://t.co/RzgwcQHL pic.twitter.com/9nbryKqK

— Heroes Vote (@HeroesVote) September 25, 2012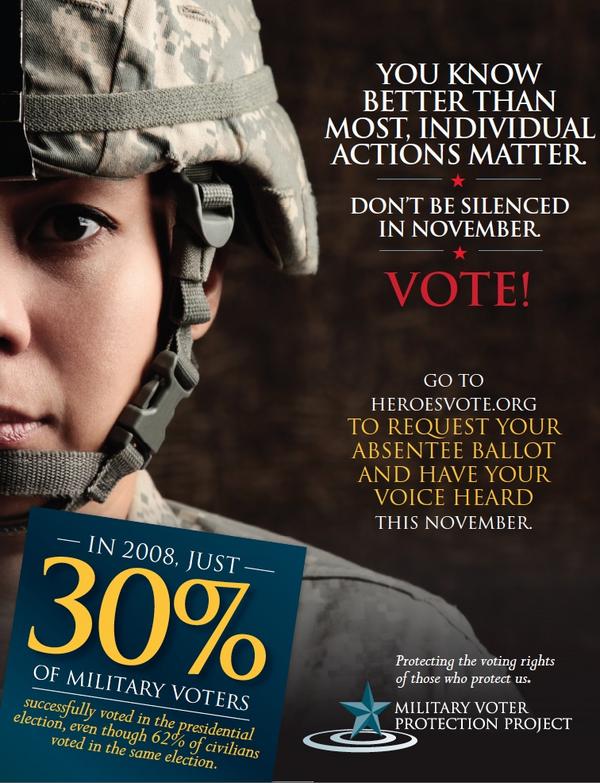 Please help to spread the word about this important initiative. Our military fights for us every day. Let's return the favor.
To change your comments display name, click here.