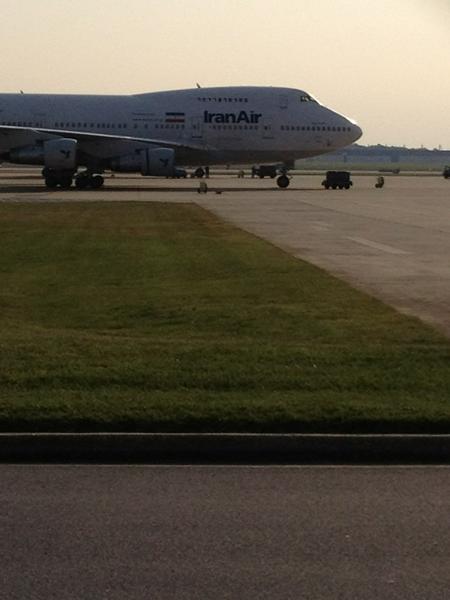 This morning, President Mahmoud Ahmadinejad's IranAir 747 was spotted at Andrews Air Force Base, the home of Air Force One.
Reporter Laura Rozen, who covers U.S. and Middle East foreign policy, was curious as to why Ahmadinejad's plane was docked just outside of D.C. when the Iranian president was in New York City to address the UN General Assembly.
As it turns out, holding foreign leaders' planes at Andrews is not unprecedented.
From the 2006 ABC report:
Sources tell ABC News that Ahmadinejad's "Iran Air" jet is considered a "high-value target" and an "enemy jet." As such it has been stationed at the secure Air Force Base where a security perimeter has been set up to keep an eye on the plane.
Major Michelle Lai, a spokeswoman for the 89th Airlift Wing, confirms that the Iranian plane is being kept at Andrews, along with the planes of other world leaders:
"Normally their aircraft will drop off the heads of state at the given location and they'll position here and wait until the summit ends," she said. "It's for security in general. It's easier to provide security on an Air Force installation for any foreign aircraft than it is at a commercial airport."
Moreover, the security provided to the foreign planes by the U.S. is offered at no cost:
It's also free, Lai said. Unlike commercial airports, the federal government does not charge foreign governments to park their planes.
Lai did not know whether special security considerations were being taken to guard the Iranian plane.
It's absurd that our military is being charged with the task of protecting Ahmadinejad's empty plane. It's even more absurd that the security detail is free for a man who stands up in front of the world and curses every value we hold dear. Precedented or not, it's ridiculous — and infuriating — that a murderous dictator and terrorist sympathizer is afforded better protection by the U.S. than U.S. ambassadors and their staff. What a disgrace.
***
Update:
The Telegraph's Nile Gardiner is blasting the White House for allowing Ahmadinejad to keep his plane at Andrews Air Force Base:
Whatever the justification given, there is no reason why this plane could not be kept at a secure airfield far away from the nation's capital. It simply defies belief that a genocidal tyrant is allowed to have his plane parked on the same runway as the president of the United States. After all, this is a man who has actively backed the killing of US soldiers in Iraq and Afghanistan, and is hell-bent on turning his rogue regime into a nuclear weapons-armed power. What kind of message does this send to other enemies of the United States?
…
Mahmoud Ahmadinejad and his cohorts should never have been allowed into the US in the first place. He could easily have been denied a visa by the State Department, and completely isolated on the world stage. The revelation that his plane has been parked at an air force base used by the president of the United States will spark outrage and revulsion. It is bad enough that Ahmadinejad has been spreading his poison in the halls of the UN. But for his aircraft to be housed at a major military air base, when he has the blood of American soldiers on his hands, simply beggars belief.
To change your comments display name, click here.