As Twitchy reported, last week, several university campuses were evacuated following bomb threats. Today, the Daily Reveille, LSU's student newspaper, is reporting a bomb threat on campus. Students are being evacuated.
Twitchy will continue to monitor this developing story and bring you updates.
***
According to the Shreveport Times, the evacuation began shortly after 11:30 this morning.
Traffic on campus immediately resembled the end of a Saturday night football game. LSU football coach Les Miles' weekly press luncheon scheduled for noon was canceled.
Evacuation traffic is horrendous:
https://twitter.com/HelmanESPN/status/247743433538686979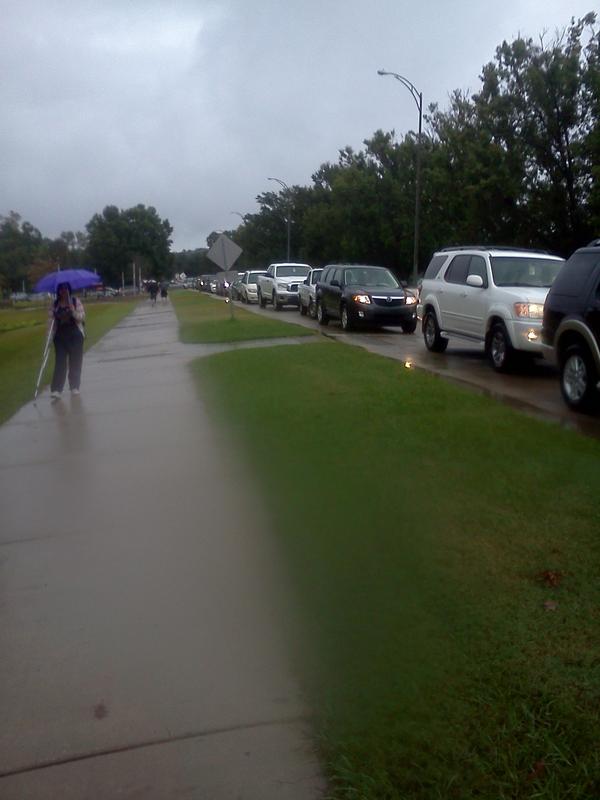 ***
Update:
Bomb technicians are at LSU:
State Police Captain Doug Cain said his office "immediately sent bomb technicians and bomb-sniffing dogs to search an area of the campus" where a caller said a bomb was located.
Also dispatched to the scene was the "Fusion Center," a section composed of state and local police, national guard and homeland security personnel that establishes a communication link. Also, the federal Department of Homeland Security is involved.
Cain said the Fusion Center contacted similar sections in Texas, Ohio and North Dakota where similar bomb threats were made last week to determine if there are similarities.
***
LSU Police, with support from multiple law enforcement agencies, continues to investigate a bomb threat on the LSU campus. The evacuation of the LSU campus is still in effect. Campus buildings are currently being searched by LSU personnel with support of law enforcement. Buildings deemed ready to return to normal operations will be determined on a building-by-building basis.
***
LSU students reacted to the news:
https://twitter.com/madddyking/status/247739560740659200
Twitterers are experiencing déja vu and are once again praying for students' safety:
https://twitter.com/HelmanESPN/status/247739507254886400
https://twitter.com/ItzMeciBiatch/status/247743427301752832
https://twitter.com/ASKYOMOMMA1/status/247744927079989248
https://twitter.com/alfairbank/status/247743813299343360
Some posed very good questions:
We may never find out, but we pray that it stops. Stay safe, LSU.
To change your comments display name, click here.