Thomas, J. (Yale, JD), speaks: funny at argument—Yale degree could mean lawyer is incompetent, not competent, capital trial counsel.

— SCOTUSblog (@SCOTUSblog) January 14, 2013
Legal history captured today by @Courtartist as Justice Clarence Thomas speaks from bench for first time in 7 years pic.twitter.com/S3bcE18a

— Uller Law Office (@ullerlaw) January 14, 2013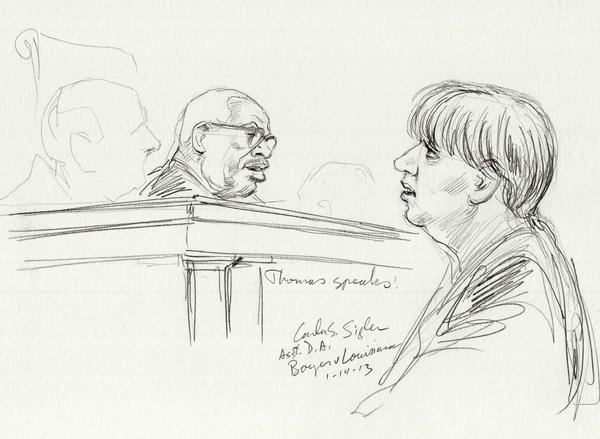 Thus spake Clarence Thomas. #scotus

— Charles Kupferberg (@ckupf) January 14, 2013
Supreme Court Justice Clarence Thomas cracked a joke about Yale law students during oral arguments today. He's famous for his restraint and reticence on the bench. It's been nearly seven years since he asked any questions — and every last liberal on Twitter is making sure you know it.
@SCOTUSblog Wait, he said something? #endofdays

— CNOW (@NOWChicago) January 14, 2013
Justice Clarence Thomas breaks almost seven years of silence at #Scotus arguments

— Adam Liptak (@adamliptak) January 14, 2013
https://twitter.com/CurtisDavisEsq/status/290892870142029824
Whoa, Clarence Thomas spoke at oral arguments today, for the first time since 2006 http://t.co/i6eLkGeW

— Sahil Kapur (@sahilkapur) January 14, 2013
For 1st time since 2006, Clarence Thomas spoke during Sup. Ct. oral arguments, a lame double entendre based on phrase "oral stuff."

— Gerard Mulligan (@GerardMulligan1) January 14, 2013
Cue the hate in 3, 2, 1…
Glad to see Clarence Thomas broke his silence to make a side comment about his fucking law school. That man is a fucking waste

— Eric (@SadBurritoMan) January 14, 2013
https://twitter.com/Barbrasboy/status/290893426570952704
Clarence Thomas made a joke? Did it involve pissing on poor minorities?

— The Outlander (@MattyRenn) January 14, 2013
Hey, don't let reality get in the way of a good Clarence Thomas-bashing rant, right?
@MattyRenn Clarence Thomas is actually an extremely charming individual. He taught one of my classes and spent most of it cracking jokes.

— Colin Bruckel (@cbruckel) January 14, 2013
Previous:
Justice Thomas dissents, Left hurls vile racial slurs 'house nigga,' 'Uncle Tom'
To change your comments display name, click here.