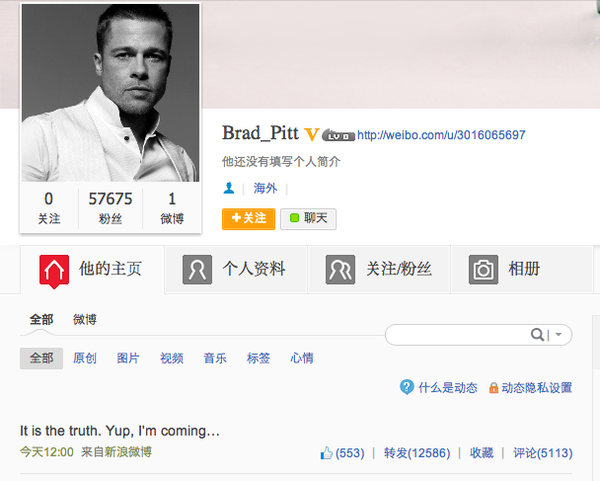 Actor Brad Pitt has reportedly been banned from China for his role in Seven Years in Tibet, but according to his new, verified account on Weibo (China's version of Twitter), he may be visiting the communist country soon. Twitter is abuzz with amateur decoders trying to decipher the cryptic first tweet:
Brad Pitt now has a Weibo account. First post is "It is the truth. Yup, I'm coming…" can he? Thought he was banned after 7 Years in Tibet…

— Liz Carter (@withoutdoing) January 7, 2013
Brad Pitt's mysterious first tweet on Weibo.. 'Yup… Im coming.'

— Felicity Morse (@FelicityMorse) January 7, 2013
What does Brad Pitt mean when he says he's 'coming' on his Chinese twitter Sina Weibo account?

— Jane Crowther (@totalfilm_jane) January 7, 2013
@totalfilm_jane he's coming back? New film?

— Lewis Whittenbury (@lwhittenbury) January 7, 2013
Er, TMI:
Are we sure he's not in bed with Angelina? MT @STcom Brad Pitt tweets to Chinese on his Sina Weibo that he's coming http://t.co/pUOWnYav

— Kristine Servando (@tinssoldier) January 7, 2013
To change your comments display name, click here.