https://twitter.com/Coreydavis13b/status/286125526077284352
The annual New Year's Rose Parade kicks off at 8am Pacific Time this morning. Viewers are especially excited about two military-themed floats honoring America's Korean War vets and military service dogs.
Here's a pic of the Korean War vets' float: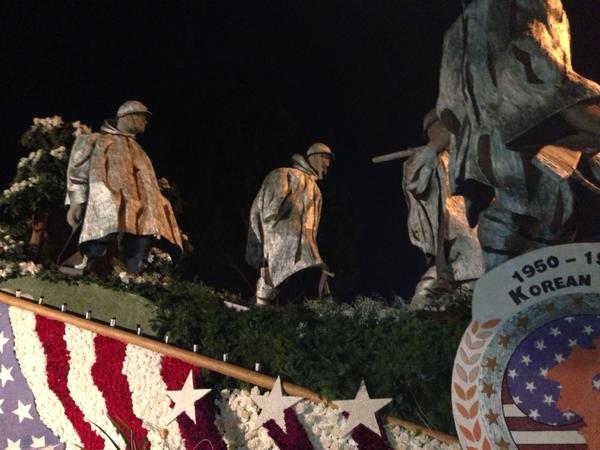 And more on the military service dogs' float:
It's been nine months since Lucca lost her paw to a roadside bomb in Afghanistan. A veteran of three combat deployments, she is one of thousands of U.S. military working dogs trained to sniff out booby traps, deliver messages and track enemies. She has led more than 200 missions, with no Marine ever injured under her patrol.

When the 124th Rose Parade kicks off the new year on Tuesday, Lucca and her handlers will be riding a float celebrating the decades of service by her kind. The float, titled "Canines with Courage" and sponsored by Natural Balance Pet Foods, was inspired by the Military Working Dog Teams National Monument that will be dedicated later next year in San Antonio.

Four handlers and their dogs, representing the Air Force, Army and Marines, will also escort the float, built by Fiesta Parade Floats.
God bless all our troops and their support staff and service animals this New Year's Day!
To change your comments display name, click here.