Deeply disturbing news breaking on Twitter about the alleged assault on the son of a Wisconsin GOP state senator, Neal Kedzie, who was reportedly defending himself against attackers who went after Romney yard signs on the family home's property:
https://twitter.com/wgblackwell/status/260494436142833664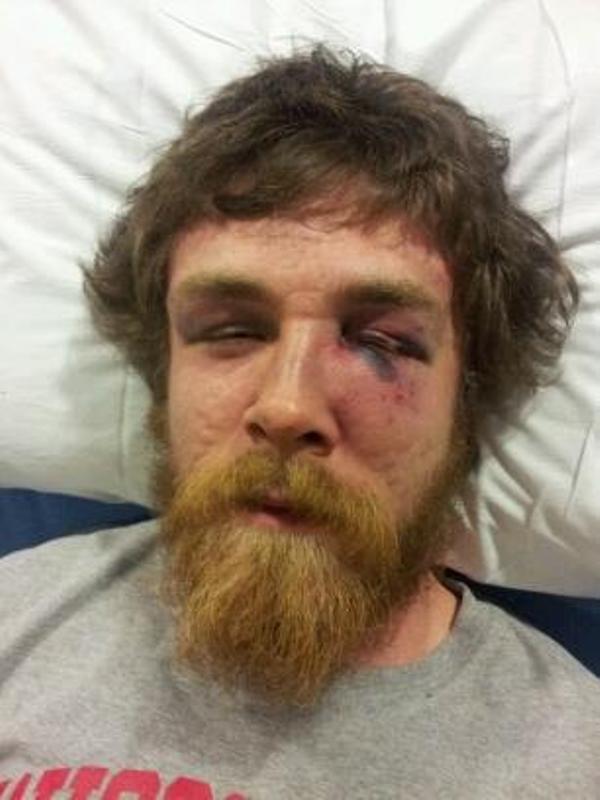 Senator Kedzie has released a statement about the attack, which took place late last week:
Early on Friday morning, October 19th, my son Sean was awakened by noises outside his residence in Whitewater. As he went to see what the commotion was about, he noticed an individual removing a Romney/Ryan yard sign from his property. He yelled to the person that they were taking something not theirs and to return it immediately. The individual returned the sign, however, a second person confronted and attacked Sean without warning.
Sean was wrestled to the ground by both persons, held down by a constricting chokehold, and struck repeatedly about the face and head. He nearly passed out from the chokehold and suffered contusions to his face and eyes.
Fortunately, an alert neighbor heard the commotion, scared the individuals away, and called the police. My wife and I were awakened by a telephone call from Sean's roommate that Sean had been taken by ambulance to Fort Atkinson Memorial Hospital.
Senator Kedzie and his family expect Sean to make a full recovery but are very concerned that this crime was politically motivated. Our thoughts are with the Kedzie family at this time.
Twitchy will continue to monitor and update you on the incident. Be careful out there, folks.
***
Related:
Got a Romney bumper sticker or yard sign? Watch out for these unhinged libs
Democrats Gone Wild: Obama supporters 'key' cars displaying pro-Romney bumper stickers
Unhinged liberals fantasize about ramming into cars with Romney bumper stickers
Unhinged liberals urinate on Romney-Ryan yard signs; Update: No apologies
Vandal sprays 'Obama' on Romney supporter's boat, defaces Romney-Ryan yard sign
#WaysToGetShot: Obama thugs joke about shooting Romney supporters
Vandal smears excrement on Romney-Ryan yard sign
Vandal defecates on Romney yard sign; Update: Blames typo
Unhinged: Romney presidency inspires threats to burn down the White House
To change your comments display name, click here.