Yikes! That was the scene at the Hoboken, N.J., PATH station last night as flood waters from Hurricane Sandy surged into the station. It was caught on Port Authority surveillance camera.
LOOK: A Port Authority surveillance camera shows a PATH station in Hoboken, N.J. as it gets flooded Monday night: http://t.co/kcslWt3M

— The Associated Press (@AP) October 30, 2012
Flood waters rush in to the Hoboken PATH station through an elevator shaft. #Sandy pic.twitter.com/QosgFyOI

— Port Authority NY&NJ (@PANYNJ) October 30, 2012
Reason the mayor of Hoboken is sounding panicked on live TV: water gushes into subway station http://t.co/SgvYS400

— Nico Hines (@NicoHines) October 30, 2012
The panic started even earlier, as Hoboken began flooding before the storm even hit.
@SamChampion This Hoboken pier is about to flood over just across river from you. #SandyABC7 pic.twitter.com/sfyumVCx

— Rachel Chang (@RachelChang) October 29, 2012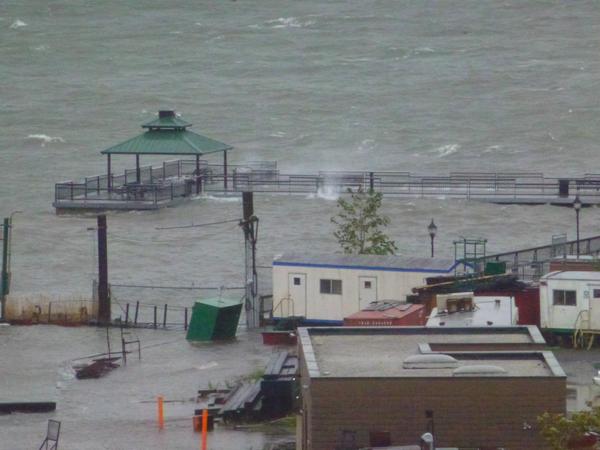 Scary #Sandy, Hoboken terminal flooded. Be safe everyone. @NPRinskeep RT @michaelhayes: Hoboken terminal is flooded http://t.co/4Wf1swjA

— Naomi Hyman (@nomezz) October 29, 2012
Another photo of the flood at Hoboken Terminal in NJ http://t.co/VefzqH1m #sandy

— Mike Hayes (@michaelhayes) October 29, 2012
Hudson river has poured into north Hoboken. Submerging ferry piers and cars, swirling around waterfront buildings. pic.twitter.com/mZnA71pN

— Peggy Collins (@mkmcollins) October 29, 2012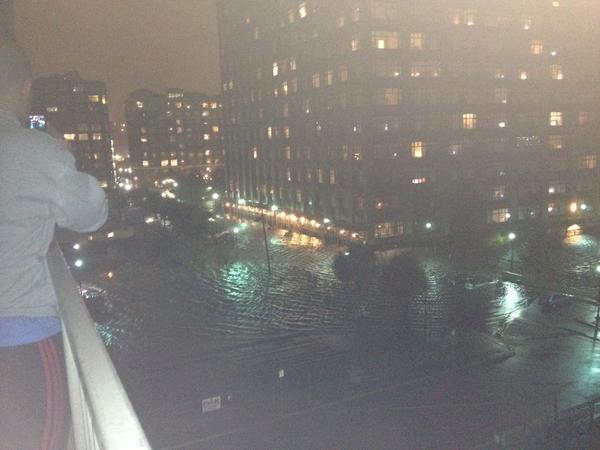 This morning, Hoboken is a disaster area. The city is underwater. Power is out and people are trapped in their homes.
Southwest #Hoboken is still a true disaster #Sandy. About 4 ft of water. Our garage is filled to the ceiling. No power pic.twitter.com/JHRznBF0

— Amardeep Singh (@amarHoboken) October 30, 2012
#Hoboken near my house. Water 4ft deep. No power. pic.twitter.com/2SK6EuUV"

— Carlos Guzman (@CarlosJGuzman) October 30, 2012
7th and Park in #Hoboken pic.twitter.com/SdMsW3qT

— Katie Colaneri (@KatieColaneri) October 30, 2012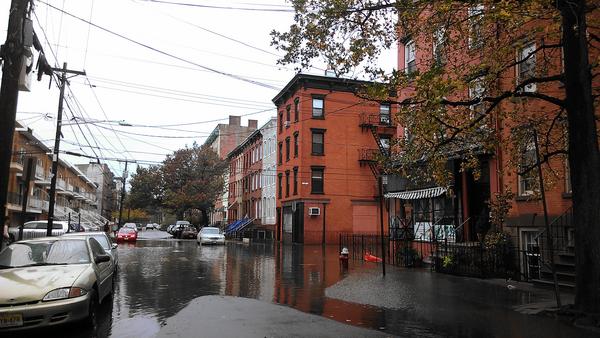 #njmorningshow RT @REMAXHoboken: corner of 1st St looking down Grand St @HobokenPatch @HobokenGirlBlog #sandy #hoboken pic.twitter.com/wC7Fpn2R

— Kurt Siegelin (@kurtsiegelin) October 30, 2012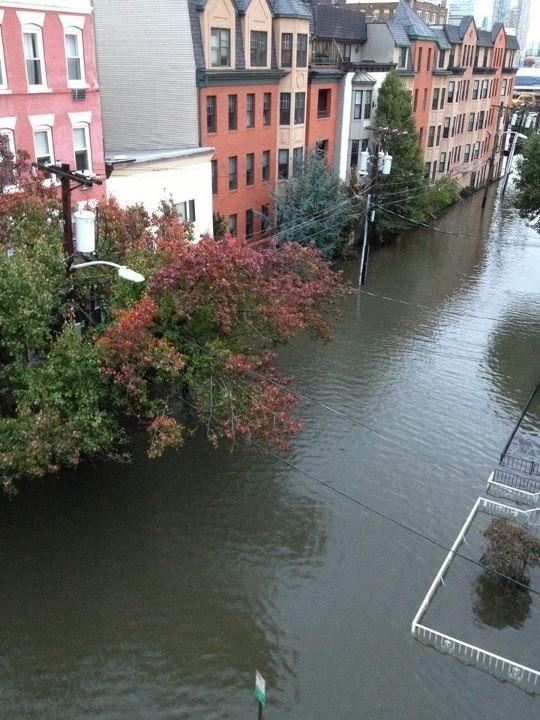 Holy Hoboken! #sandy pic.twitter.com/N6KWDlB0

— Pat Collins (@collins_GIS) October 30, 2012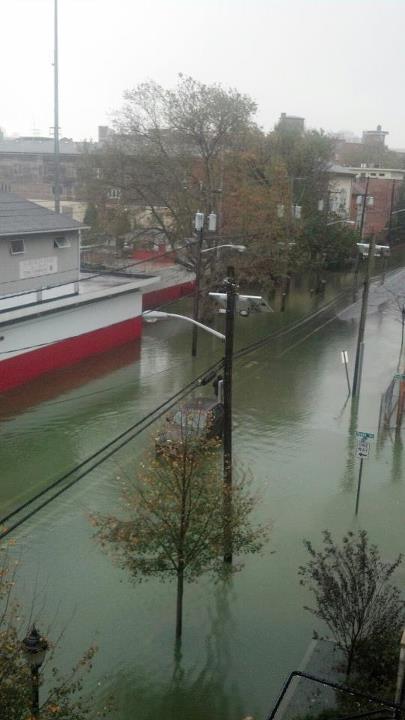 #njsandy #Hoboken first and park this am, no power since last night 9:00 pm pic.twitter.com/kJQqXAa6

— Choc O Pain (@chocopainbakery) October 30, 2012
The Hoboken – Police, Fire, Rescue stream is intense. Good luck you guys!!! #ny #sandy #emergencyradio http://t.co/OrHqol1L

— ÆTHER ÎNVADER (@Gizmopunk) October 30, 2012
Indeed. Rescue workers are dealing with a city underwater and residents who are trapped with no way out.
Trapped in southwest #hoboken 4 ft deep H20. Power is out. On bright side is family time together. http://t.co/zwdplCan

— Amardeep Singh (@amarHoboken) October 30, 2012
No power on Newark St btwn Grand + Adams in #hoboken. Water 4ft deep. No power. Garage water to ceiling. #disaster. pic.twitter.com/lX1n2KU5

— Amardeep Singh (@amarHoboken) October 30, 2012
Trapped in Hoboken, about 3-4 feet of water preventing us from leaving. Thank god we're on the 2nd floor @njdotcom pic.twitter.com/IdA73RgS

— Stephanie Manella (@stephmanella) October 30, 2012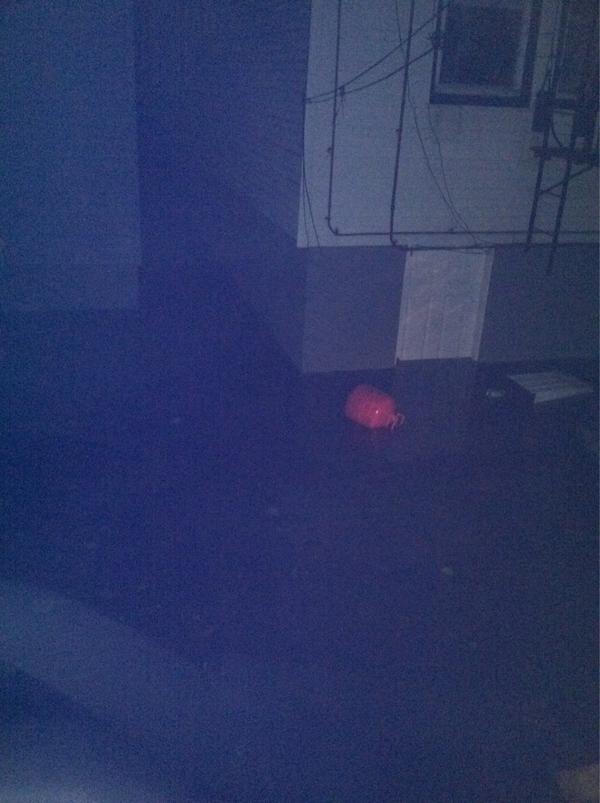 #Hoboken Scanner Traffic: People trapped in Basement; water coming in basement, wires down in the water

— Liberty Zabala (@LibertyNBC7SD) October 30, 2012
@KenOstroff my nephew is trapped on the 14th floor of one of those Hoboken highrises surrounded the the east river

— Bill MSV (@GazzL_MV) October 30, 2012
@terrence_j_r My friend in Hoboken is trapped in her 5th fl apt. I hope u & family are safe & dry. The news reports are crazy. #Sandy2012

— Margaret K Strotman (@ajgets1) October 30, 2012
https://twitter.com/NicoleGutekunst/status/263166463597219840

https://twitter.com/Benzel_BiGbEn/status/263270808921702400
The aftermath of Hurricane Sandy in Hoboken, NJ. http://t.co/jFL7rCdr

— Jimmy Suarez (@JimSua01) October 30, 2012
We are one with Hudson River: Scene from Clinton Street #Hoboken #HurricaneSandy pic.twitter.com/RKfgJP1w

— Koru Kate (@KoruWedding) October 30, 2012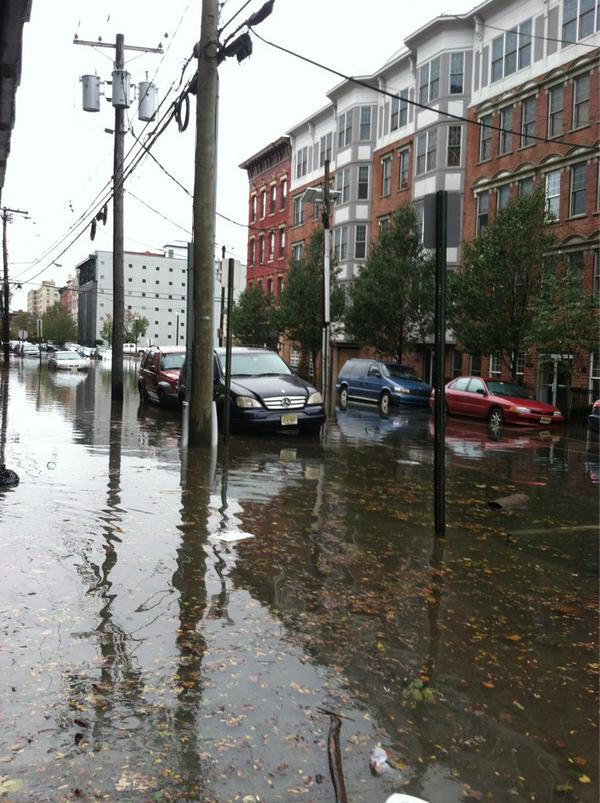 https://twitter.com/katieg1975/status/263245934912225281
@GovChristie anyone coming to Hoboken to help dig? 4ft rivers in our streets

— Josh Lukin (@coffeeon3rd) October 30, 2012
The Mayor of Hoboken has called on the National Guard for help.
The mayor has called in the national guard for assistance #Hoboken #Sandy

— HobokenGirl.com (@HobokenGirlBlog) October 30, 2012
Just woke up and we still don't have power. Yowza. Keep praying for the people of Hoboken. The city has called in the National Guard. #fb

— Erika Lenzi (@erlenzi) October 30, 2012
UPDATE: Mayor of Hoboken, New Jersey, calls for National Guard help – @WSJ http://t.co/65soVRVq

— CaribNews (@caribnews) October 30, 2012
More from The Wall Street Journal:
The mayor of Hoboken, N.J., said she had called on the National Guard to help rescue people in the mile-square city on the Hudson River.

Mayor Dawn Zimmer reported at least four live wires down — including two under water — and said that PSE&G cou PEG -0.84%ldn't get utility crews into the city. Firefighters were unable to respond to calls despite calls reporting fires and smoke. Half of Hoboken was flooded, the mayor said.

"We're in a very difficult situation," Zimmer said. "The Hudson River has breached us at the north and and the south end."
Our thoughts and prayers continue to be with all affected by this utter devastation.
To change your comments display name, click here.