"Ten more days, ten more days." Goose bumps! The crowd in Pensacola, Fla., started lining up early.
Mile long line at Pensacola FL Romney Rally #tcot pic.twitter.com/eyuhqcev

— Billy Jones (@masquer08er) October 28, 2012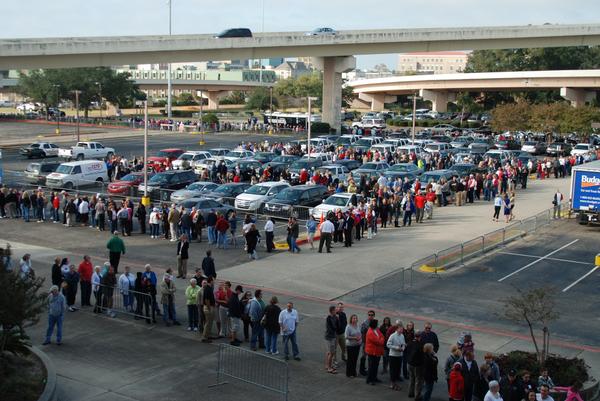 One of several long lines outside Pensacola Civic Center for Romney rally #campaign2012 pic.twitter.com/GlNyNDv2

— Peter King (@PeterKingCBS) October 27, 2012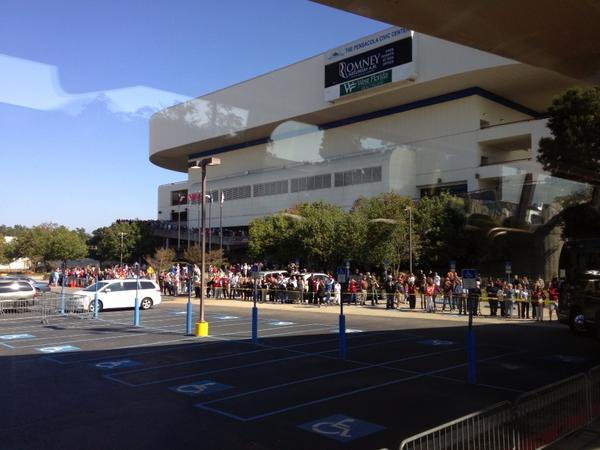 The long wait didn't deter them any. Fired up and ready to go? You betcha! Take a gander at these on-scene photos and reports from the crowd.
What an amazing welcome in Pensacola, Florida. This crowd is unreal. Amazing energy. #RomneyRyan2012 pic.twitter.com/WihcdpIx

— Garrett Jackson (@dgjackson) October 27, 2012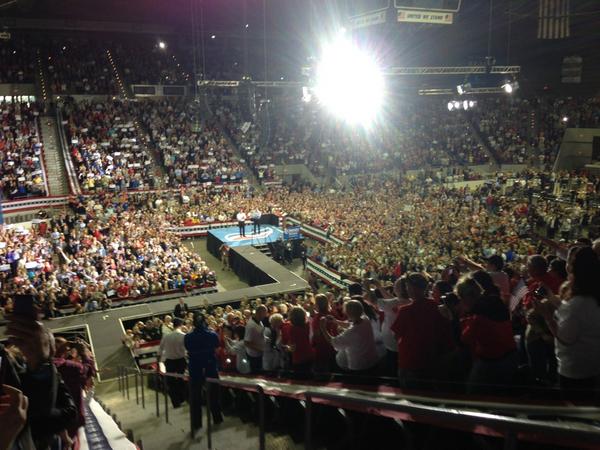 At the Mitt Romney rally in Pensacola on Saturday there were Patriots who were African American, Hispanic, Asian American, Caucasian, etc!

— Danny Boy (@Tidepups) October 28, 2012
Pensacola crowd spellbound by Romney's bio video #RomneyRyan2012 #Election2012 pic.twitter.com/PalbEXly

— Seth McLaughlin (@SethMcLaughlin1) October 28, 2012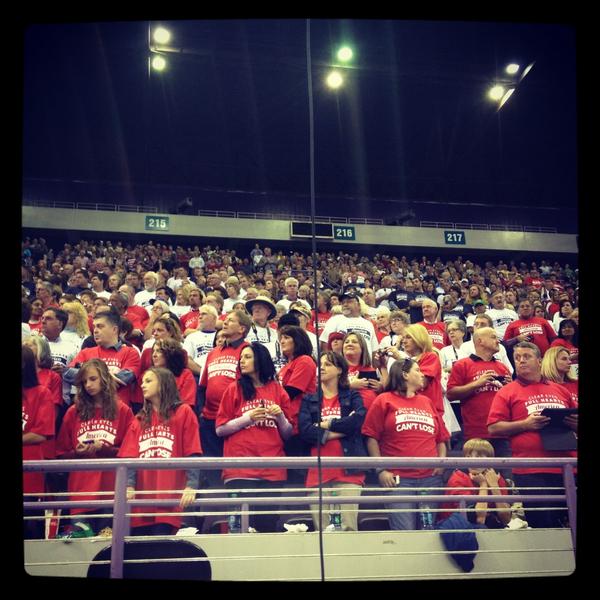 @RomneyRoadTeam I had such a great time in Pensacola..Romney, Rubio both were amazing! pic.twitter.com/pGgI2Cu0

— CarlaCastorina (@SouthernGrl) October 28, 2012
RT @PhilipRucker: Some in Romney's Pensacola crowd wear red, white & blue T-shirts to form US flag. #2012unfiltered http://t.co/JoDaSyaY

— Garrett Jackson (@dgjackson) October 27, 2012
Beautiful.
https://twitter.com/JJsassypants/status/262249575958597632
Packed house in Pensacola FL to see @MittRomney. Easy to see why Romney will win Florida on Nov 6th http://t.co/yQIaeLys

— Rick Gorka (@Rick_Gorka) October 27, 2012
OMG! Is this in Pensacola?? RT @andiegibsonnn: Inside the Civic Center to see Mitt Romney! http://t.co/k9hHjxAO

— Sister Toldjah ツ (@sistertoldjah) October 27, 2012
Another view Pensacola Victory Rally w/President Romney!#RomneyRyan2012

10,000+ in attendance! pic.twitter.com/Zfr5iBup

— Joann Elizabeth ن (@holyroller64) October 27, 2012
@Mitt Romney. Pensacola Civic Center, Pensacola, FL. Full capacity + attendance and turned hundreds away! pic.twitter.com/WSJdKd3A

— Joyce Grimes (@joycegrimes) October 27, 2012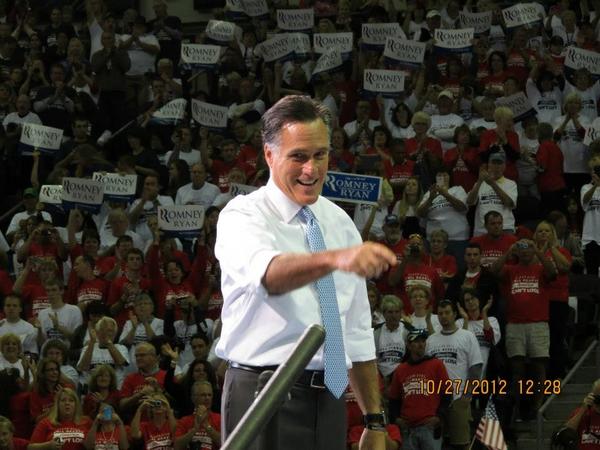 "Ten more days!" Now, nine more days! And the Mittmentum is strong.
No idea what will happen, but Romney in Pensacola today certainly sounded like a winner, and Obama in Nashua sounded like a loser…

— Byron York (@ByronYork) October 28, 2012
Bingo. And this troll plane, flying after the Pensacola rally, shows the Left is running scared.
@seanhannity Here's a closeup of the awful plane and banner after the Romney Rally in Pensacola, FL. pic.twitter.com/3GKIR2m5

— Ryan Moberly (@Mobes333) October 28, 2012

Pitiful. And a total fail.
Holy Smoke, Batman! The Pensacola News Journal has endorsed Mitt Romney for pres in today's edition. Judy is administering smelling salts.

— Jim Locke (@pastorjimlocke) October 28, 2012
The Pensacola, FL News Journal endorses Romney – endorsed Obama in '08. Editorial here: http://t.co/os5hZfZr

— Ted Newton (@Ted_Newton) October 28, 2012
Boom!
To change your comments display name, click here.