Oh, my! Someone in Hollywood who isn't wearing Obama cult-glasses!
Actor Rob Lowe took to Twitter last evening to point out something that happy warriors have known all along: Many "real journalists" are simply lapdogs for Obama. Mr. Lowe meant CNN anchor Erin Burnett, not Erin Brown, and he swiftly corrected himself.
A real "Erin Brown" got a kick out of it.
Ha! And Twitter users were quick to agree with Rob Lowe's assessment of yet another water carrier.
Zing!
https://twitter.com/MolliMcRey/status/248567468229017600
https://twitter.com/rushmorebeekeep/status/248558775794032641
This isn't the first time Rob Lowe has refused to follow along with the Hollywood herd. As Twitchy reported, he recently stood up for and praised Ayn Rand when the Left was trying to use her to bludgeon Paul Ryan.
The actor is also vocal in his support of our brave soldiers. And he puts his time where his mouth is; it's not all just talk, to him.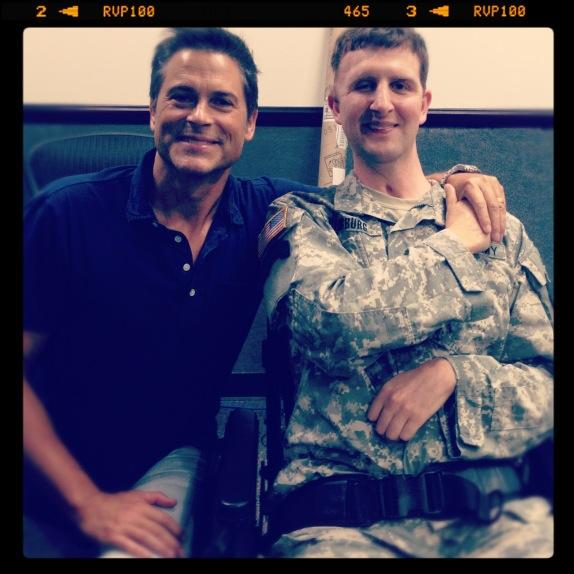 Cory Remsburg was injured in Afghanistan during his tenth deployment to the Middle East. More about Staff Sargeant Remsburg from The Price of Freedom Gala:
Fast forward to October 1, 2009, on his tenth deployment in the Middle East in support of OIF/OEF (Operation Iraqi Freedom/Operation Enduring Freedom), Cory found himself in Afghanistan. Along with the seven other members of his unit, Cory was injured when an improvised explosive device (IED) was set off on the side of the road they were traveling. All of the Rangers in Cory's unit were injured, with Cory and two others being critically injured. On this Memorial Day, we honor and remember Sgt. Roberto D. Sanchez, one of America's finest heroes, who died in that horrific explosion.

The explosion also threw Cory into a canal, face down in a pool of water with a penetrating head wound. Due to the heroic actions of his fellow Rangers, Cory was rescued and rendered immediate life-saving medical care. He was taken by helicopter to Kandahar Air Base, then to Bagram Airfield, where he had surgery on his most serious injuries. Cory then spent two weeks at the Landstuhl Regional Medical Center in Germany for further life saving medical treatment. On October 16, 2009, Cory was transported to Bethesda Naval Hospital where he spent the next two weeks in the intensive care unit.
Army Ranger Remsburg was in a coma for three months and suffered a massive brain injury. Please read more about him and his incredible strength and courage here.
Rob Lowe also retweeted, and thanked, another wounded warrior on Twitter.
Kudos, Mr. Lowe. More like this, please.
To change your comments display name, click here.