And by Team Obama, he also means the media. As Twitchy reported, members of the media were breathlessly reporting rain in Charlotte. Except, they called it a "deluge" and a "monsoon," and cheered "good call, Team Obama." The lapdogs must do a happy, tail-chasing dance in order to spin for The One and all.
@snarkandboobs @TwitchyTeam When the MSM sob's "create" a non existent weather narrative as cover; we're at new lows

— Vibora Volando (@vibora_volando) September 6, 2012
Weather, like truth, is hard. Here is a little tip for the media cheerleaders: There are things called rain showers. They happen, especially in the South.
@moelane it storms almost every afternoon in Charlotte in summer!! What happened to " we go on rain or shine"? Pathetic excuse.

— MB (@nolibgal) September 6, 2012
And reports are already coming in that the 0% chance of rain this evening may bear out.
Clear weather forecast for Charlotte tonight. http://t.co/3692P9zn #DNC2012 | From Greek Columns to Greek Tragedy

— Daria DiGiovanni (@dariaanne) September 6, 2012
Skies are already clear in Charlotte.
https://twitter.com/drhoagie/status/243811440799133698
@michellemalkin I'm sitting at my desk looking at downtown Charlotte. The sun is bright and the rain is gone (lasted maybe 10 minutes)!

— Dusty Tompkins (@DT_UNC) September 6, 2012
Judging from the Twitter feed, convention correspondents in downtown Charlotte are building an ark. Skies clear at our far-exurban hotel.

— jimgeraghty (@jimgeraghty) September 6, 2012
Blue skies in Charlotte. Why did they move the #dnc indoors? Hmmm http://t.co/EQV8E4Bo

— Tom Dixon (@TomDixon77) September 6, 2012
Blue skies & no storms west of Charlotte. Local weatherman's prediction for beautiful night true… pity Barry was so worried about folks

— Big D (@tonnogrande) September 6, 2012
https://twitter.com/JeanieGum/status/243791301517127680
Sunny after 10 min [email protected]: AndreaMitchell other media report rain in Charlotte to spin empty stadium http://t.co/M7s44XUL #tcot #lnyhbt

— togeebutton (@togee48) September 6, 2012
I'll leave forecasts to @weatherchannel, but Charlotte sky looks bright blue now #nbcpolitics http://t.co/8bpPh3B3

— Katie Primm (@katiegp) September 6, 2012
And nothing gets past CNN's Howard Kurtz.
Is there any evidence Dems were having trouble filling the stadium? Some tweeps seem to think the rain thing was an excuse.

— HowardKurtz (@HowardKurtz) September 6, 2012
Oh, honey, bless your heart. Again.
What will media do now?
Oh nooooes. The rain just stopped in Charlotte? Quick, lapdoggies. Gather in rain prayer circle. Praaaaay! http://t.co/ulXTyH8v

— Michelle Malkin (@michellemalkin) September 6, 2012
By the way, lapdogs, what happened to this?
RT @GOP FLASHBACK: "Rain or shine, Obama to address Democratic convention outdoors" http://t.co/IODBjqc2 #DNC2012

— Michelle Malkin (@michellemalkin) September 6, 2012
Lot of "hail Obama" for stadium call after Charlotte rainstorm. But #DNC2012 said "rain or shine" & problem was potential lightning

— Toby Harnden (@tobyharnden) September 6, 2012
Exactly. Blue skies or rainy skies, it shouldn't have mattered. But, you know, that whole size "issue."
How far will the breathless reporting go? And will they soon have egg on their faces?
Hey can someone set up a live-cast of the skies in Charlotte during Obama's speech? I want to see the clear skies side-by-side with him.

— Everyone's Famous (@AceofSpadesHQ) September 6, 2012
Heh. Not allowed!
ATTN #DNC2012 Delegates

Tweeting pictures of the blue sky in Charlotte are prohibited and can mean you lose your DNC ID. Thank You.

— Liars Never Win (@liars_never_win) September 6, 2012
Oh, our aching sides.
Update: The ominous blue skies continue.
The Thunderstorms are sneaking in over Charlotte, disguised as a Carolina Blue Sky !! Good thing Obama moved inside !!

— Brian A FarRight (@PaddleLife1028) September 6, 2012
Beautiful, calm evening in Charlotte, skies opening blue and bright, perfect weather for an outdoor stadium speech. #BreitbartDNC #DNC

— Joel Pollak (@joelpollak) September 6, 2012
https://twitter.com/Nathan_Butler92/status/243833036628688896
That bright blue sky over Charlotte right now sure looks menacing! #DNC2012

— Amanda Terkel (@aterkel) September 6, 2012
Absolutely POURING in Charlotte right now. Glad Obama's speech was moved indoors. pic.twitter.com/Of647OTm

— Michael Deppisch (@deppisch) September 6, 2012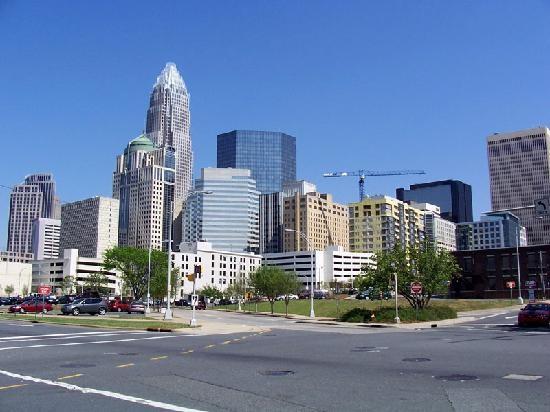 Beautiful weather in Charlotte for an outdoor speech pic.twitter.com/NPk9njzG

— Matt Connelly (@MattConnelly) September 6, 2012
To change your comments display name, click here.