According to AP , this round of violence began when Palestinians opened fire on IDF forces earlier today:
GAZA CITY, Gaza Strip (AP) — Palestinian militants fired an anti-tank missile at an Israeli jeep patrolling the border with Gaza and the Israelis fired back into the Palestinian territory, killing four civilians, officials and witnesses said.

Israel's military said four of its soldiers were wounded in the missile attack, one of them seriously. Ashraf al-Kidra, a Gaza health ministry spokesman, said all four Palestinians killed were civilians between the ages of 16 and 18 and that among the 25 wounded were some children.

The military wing of the leftist Popular Front for the Liberation of Palestine took responsibility but it still remains unclear who in fact was behind the attack. The PFLP often takes credit for attacks that later turn out to be the work of Hamas or Islamic Jihad militants.
Still unclear which terrorist group is responsible for the attack on IDF forces:
Twitter user @TBradleyNC reiterates that Israel's military strikes tonight were a response to the Palestinian attack:
Unsurprisingly, both sides are accusing the other of targeting civilians:
https://twitter.com/afagerbakke/status/267378601706536961
Tweeters are posting on-the-ground reports from both Gaza and Israel: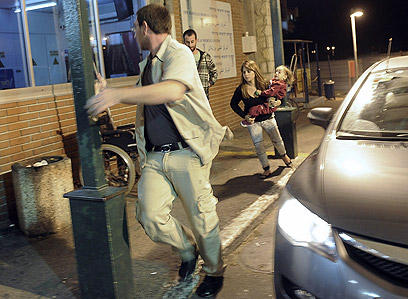 To change your comments display name, click here.