Two former Navy SEALs were identified Thursday as the third and fourth victims of the attack on a U.S. consulate in Libya this week that also killed the U.S. ambassador.

U.S. officials and family members identified the men as Glen Doherty, 42, a native of Winchester, Mass., and Tyrone Woods, 41. Details of how they died haven't been made public.

The men were working as private security specialists for the U.S. government when militants attacked the U.S. Consulate in Benghazi on Tuesday night. In all, four Americans were killed; the others were previously identified as the U.S. ambassador to Libya, Christopher Stevens, and Sean Smith, an information management officer.
We already know how some on the Left feel about civilian military contractors:
"I feel nothing over the death of merceneries (sic). They aren't in Iraq because of orders, or because they are there trying to help the people make Iraq a better place. They are there to wage war for profit. Screw them."
The rest of Twitter is mourning the loss of these two American veterans — two heroes who were murdered in the prime of their lives: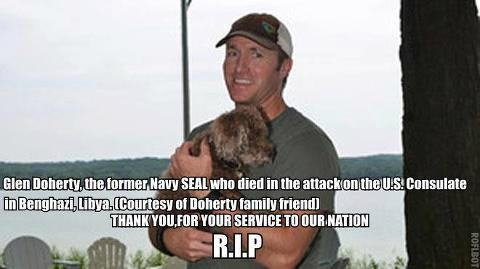 Recommended Twitchy Video