As Twitchy reported, tornadoes in Mississippi and Alabama caused major damage and injuries on Christmas. As many as 34 tornadoes ripped through the South, trapping people in their homes and mangling buildings.
Scary photo of the tornado from my neighborhood in Mobile this evening, taken by neighbor down the street. http://t.co/McgrisMm

— Alex Pappas (@AlexPappas) December 26, 2012
Incredible video that's incredibly sad of the Mobile tornado on Christmas Day. http://t.co/Acdctu4S

— Leigh Spann (@WFLALeigh) December 26, 2012
The Christmas storm is being blamed for three deaths and many more injuries.
31 is the #tornado count from SPC now with 14 to 20 injuries in MS alone. Not seeing McNeil, MS injuries here: http://t.co/LJKIbcqU #severe

— Jim Cantore (@JimCantore) December 26, 2012
The tornado did not hurt anybody I know but not all were so lucky 🙁 – Christmas Day storms blamed for 3 deaths – http://t.co/oNoliqMp

— Saki (@_saki_chan) December 26, 2012
The property damage is severe in some areas.
Roof ripped off large church in Mobile, Ala. by apparent #tornado – MORE: http://t.co/VXXSYEXn = pic.twitter.com/ZqXzNUIJ

— Micah Grimes (@MicahGrimes) December 26, 2012
Historic church "likely a total loss" in Mobile tornado. http://t.co/Wt35Ip2p

— Rena Havner Philips (@RenaPhilips) December 26, 2012
@seanagnew my hospital got hit and I'm not sure about my house yet, I'll find out tomorrow!

— Nikki (@nikkibama) December 26, 2012
More from Troy @ mobile home park, where 2 families had to be cut from their homes. @wsfa12news pic.twitter.com/NzifG7V7

— Jenn Horton (@JennWSFA) December 26, 2012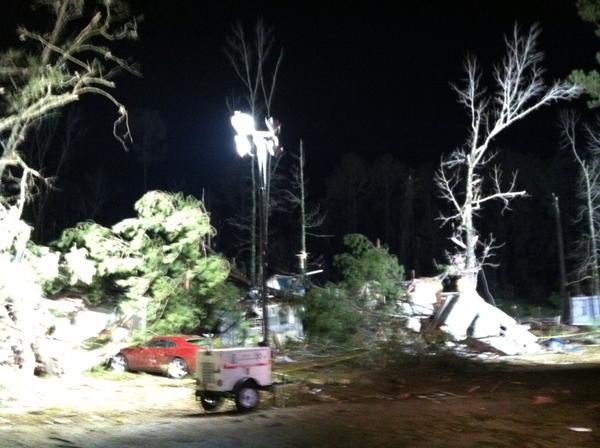 Damage at Brantley Mobile Home Park in Troy. pic.twitter.com/cu6lae9J

— Ryan McCollough (@RyanLMcCollough) December 26, 2012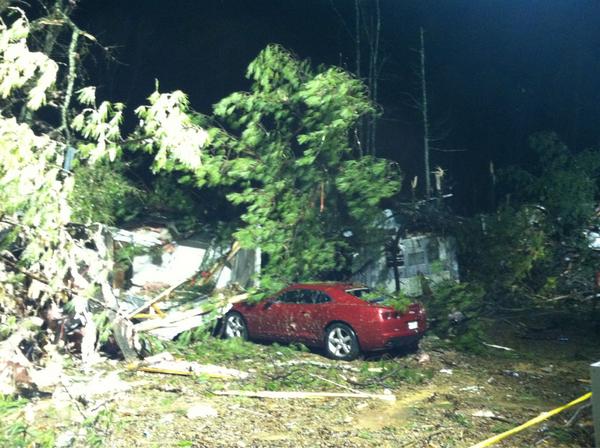 Brantley Mobile home park in Troy after possible tornado. pic.twitter.com/je2xl5Aw

— Thomas Graning (@tgraningphoto) December 26, 2012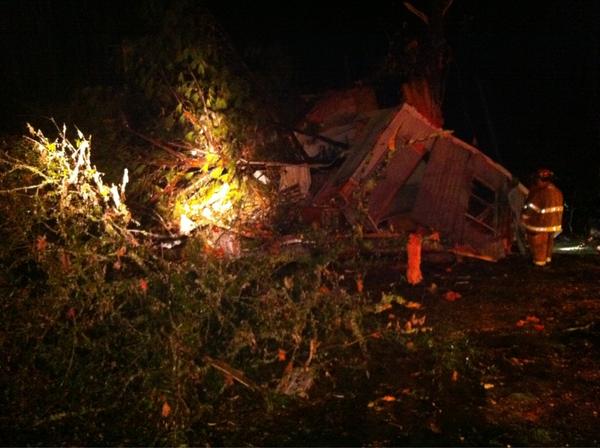 Prayers to Mobile, AL ~ pic of my high school roof blown off tonite due to tornado. pic.twitter.com/QEXiJs0J

— Amy D. Howell (@HowellMarketing) December 26, 2012
@reedtimmerTVN @Dave_Nussbaum Pictures sent to me from this afternoon's tornado north of Picayune, MS. pic.twitter.com/XGFpSjBE

— Rachel Chidester (@rachelchidester) December 26, 2012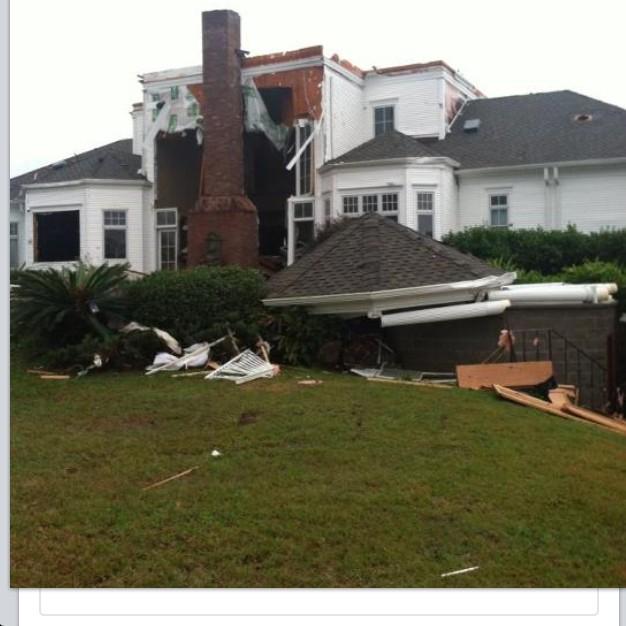 Continued prayers for everyone in the South.
Update:
The heartbreaking weather-related deaths continue today:
@TwitchyTeam More than three. At least three are dead in Arkansas from weather-related accidents, including two kids. http://t.co/sDjPtURJ

— Megawatt Herb Drench (@mdrache) December 26, 2012
To change your comments display name, click here.