Meanwhile, the American people continue to populate the asylum with their votes.
(As 'fiscal cliff' nears), striking use of "lunatic" in U.S. law is last scheduled House vote, says #C-SPAN. No further comment needed.

— John Eggerton (@eggerton) December 5, 2012
Here's C-SPAN screengrab of House vote just now on removing the word "lunatic" from fed law (spoiler alert: it passed) pic.twitter.com/rhbyk5fs

— Howard Mortman (@HowardMortman) December 5, 2012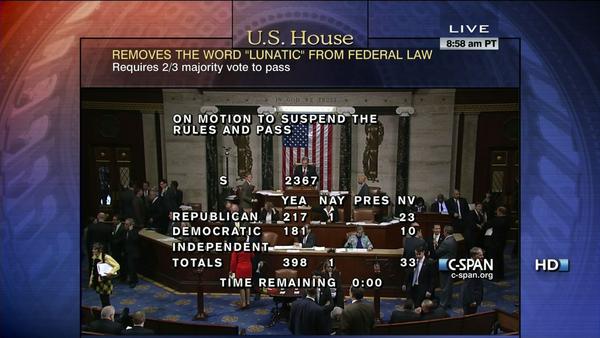 By a vote of 398-1, House passed S. 2367 – A bill to strike the word "lunatic" from Federal law.

— Ric Andersen (@ricandersen) December 5, 2012
The one "no" vote was from Texas Republican Rep. Louie Gohmert.
House vote on 'lunatic" removal bill 398 – 1. Cong. Louie Gohmert, R-Tx voted against.

— Mark Knoller (@markknoller) December 5, 2012
Congress also reportedly opted to retain the word "idiot" in federal law.
Congress Erases `Lunatic,' Keeps 'Idiot' in Federal Law http://t.co/TZyMzAS9 via @BloombergNews

— Timothy R. Homan (@timothyrhoman) December 5, 2012
Make of that what you will.
Recommended Twitchy Video