The Twitter account of powerful Muslim Brotherhood deputy leader Khairat el-Shater was hacked last night. More than 11 hours later, tweets linking to the Twitter account of hacker @T4ct and the Facebook account of "Anonymous Middle East" remain on his account. One of the tweets includes the message "TacticiaN WAS hErE."
https://twitter.com/khairatAlshater/status/276142108287590400
https://twitter.com/khairatAlshater/status/276144534155558912
https://twitter.com/khairatAlshater/status/276144460432281600
The Islamist leader's Twitter avatar was changed to a photo of Gaber "Jika" Salah, the teen anti-Morsi protester who was killed during clashes with Egyptian police last month.
Well, @khairatAlshater's twitter account has just been hacked. Avatar's been changed to a photo of the martyr Gaber "Jika" Salah.

— Bassem Sabry باسم (@Bassem_Sabry) December 5, 2012
Photo: The hacking of @khairatAlshater's Twitter account today. He even put a phone no. out there. #Egypt #FJP pic.twitter.com/9iyaUOSD

— Your Middle East (@YourMiddleEast) December 5, 2012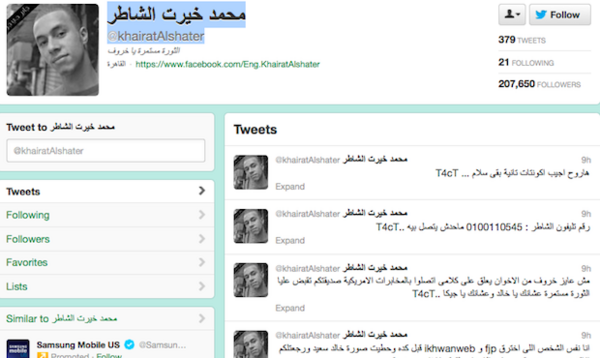 If u open @khairatAlshater account now u will find a picture of a revolution martyr his account was hacked by a revolutionist #Egypt #Tahrir

— minamaseh (@MinaShaq) December 5, 2012
In addition, el-Shater's Twitter bio has reportedly been changed to include a pro-revolution message.
Muslim Brotherhood's Khairat el-Shater twitter account hacked, info altered to revolution continues you mule http://t.co/zOX3TN2S

— Amed Agour (@AnubisIIVII) December 5, 2012
@khairatAlshater official twitter account has been hacked! New Bio: "The revolution continues" !! #VivaLaRevolution #Morsi #Egypt #Ikhwan

— Ahmed Ezzat (@TheBlackBullian) December 5, 2012
To change your comments display name, click here.