Who wakes up in the morning and thinks, "How can I best support the sitting president's bid for reelection? Eureka! I'll shimmy into a skin-tight latex ballot with Mitt Romney's name emblazoned on the crotch!"
Katy Perry, that's who.
The "Teenage Dream" singer proudly strutted her Obama cultist couture at the president's "block party" last night in Las Vegas. Because nothing says "serious and informed voter" like a rubber ballot dress. (OK, maybe Madonna had her beat with her Obama tramp stamp.)
Bad camera angle "@mattmfm: Oh my @KatyPerry, that dress! http://t.co/QflbcLiG"

— Christina Kuo (@christina_kuo) October 25, 2012
Thanks, genius. We weren't sure your appearance at an Obama rally was quite enough indication that you were voting for President Pop Star.
Yes, that's a ballot on @katyperry's dress, and yes it's filled in for @BarackObama! #WeDecide pic.twitter.com/g0VijHMM

— OFA NV (@OFA_NV) October 25, 2012
Boy, it's a good thing she checked off Obama's name!
Katy Perry wearing latex dress decorated w ballot paper – Obama-Biden checked, & Mitt Romney on her thigh pic.twitter.com/SW4ZpG9C

— Toby Harnden (@tobyharnden) October 25, 2012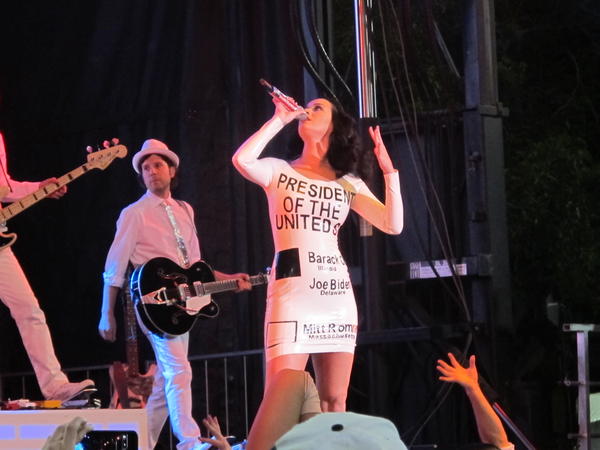 Closeup of Katy Perry Performing Tonight at Barack Obama Political Rally by @erik_kabik #Vegas http://t.co/cauH2y0w

— Vegas BiLL (@VegasBiLL) October 25, 2012
Sorry but seeing #Obama and Biden on Katy Perry's bulge was not entertaining to me. #LasVegas

— Robert Attebery (@reattebery) October 25, 2012
Sigh. Cue the obligatory hanging chad jokes.
Katy Perry is dressed like a ballot. There's got to be some sort of hanging chad joke here. http://t.co/RAL4mU8r

— Buckeye State Blog (@buckeyeblog) October 25, 2012
https://twitter.com/cdellaverson/status/261318491695636481
Is that a hanging Chad?! "@vbspurs: Katy Perry shows off her absentee ballot. —-> pic.twitter.com/1ndTxFK2"

— Claire Mahoney (@TaggertGirl) October 25, 2012
NSFW RT @meredithshiner: where are the hanging chads? RT @evanmc_s Katy Perry dressed as a ballot at Obama event http://t.co/OJ3ltcCx

— Matt Kuzma (@MattKuzma) October 25, 2012
Helpful hint: Stay away from the Halloween stores today. We're betting thousands of libs are desperately trying to return their Big Bird, binder and bayonet costumes this morning.
I WANT @KatyPerry's DRESS! BARACK OBAMA BALLOT LATEX DRESS HAAAAAAY! #WideAwakefor13moredays #nvdecides

— Juancé (@JuanoBano) October 25, 2012
But it gets weirder (and more humiliating for Perry):
Yes, @katyperry, you can take that sticker home with you! #WeDecide pic.twitter.com/uW7RmK4B

— OFA NV (@OFA_NV) October 25, 2012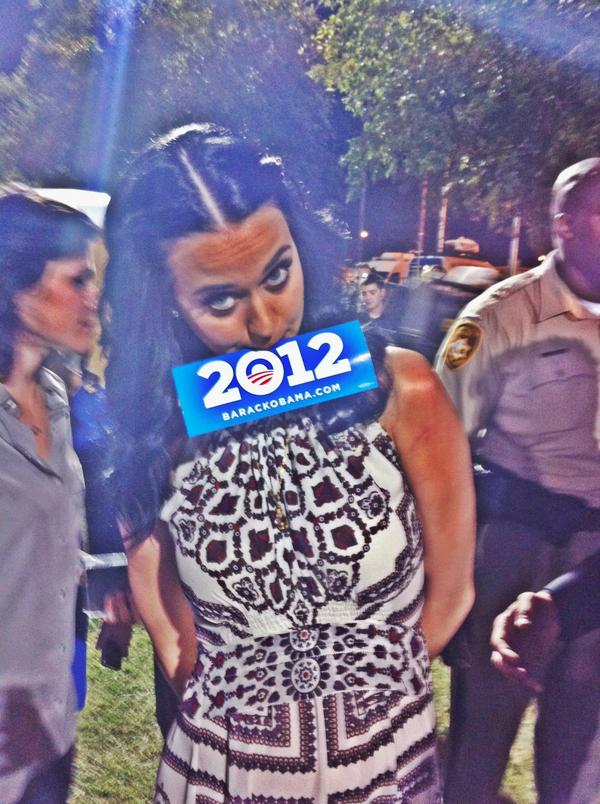 "I kissed an Obama sticker and I liked it"?
Perry finished off the night with a swoon for President Eye Candy.
So tonight was a great night! The PRESIDENT gave grandma and I unforgettable shout outs & now I am officially 28! Best. birthday. ever.

— KATY PERRY (@katyperry) October 25, 2012
Sure, he gave her a shout-out. But does Perry really want to put the president's familiarity with her music to the test?
I wanna know how many Katy Perry songs Obama knows

— Shit KatyCats Say™ (@ShitKatyCatsSay) October 25, 2012