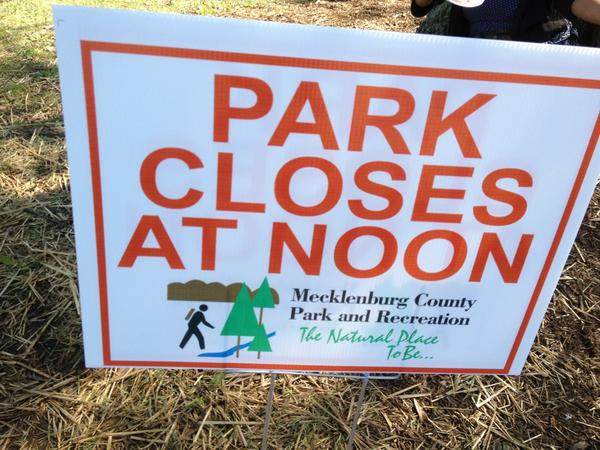 URGENT: EVICTION OF MARSHALL PARK HAPPENING AT NOON, PEOPLE ARE STRANDED, NO BUSSES, NO WORD FROM AARON BLACK, NO WORD FROM NYC GA

— RadicalTourGuideNYC (@thepellareport) September 7, 2012
out of marshall park by noon? really? no justice, no sleep. #occupyDNC

— Laurel (@laurelgreen) September 7, 2012
How will we live with ourselves if we don't do something about the grave injustice of Occupiers forced from their sleeping bags before the ungodly hour of noon?
https://twitter.com/MeghanACooke/statuses/244099166299619329
#occupyclt prepare to leave Marshall Park. Got to be out by 12. #dnc2012 http://t.co/Ltm7v235

— Sarah Batista (@sarahbatistaTV) September 7, 2012
https://twitter.com/TonyWCNC/statuses/244083927743094784
You can close the park, but you can't evict an idea, man!
Park watch just asked everyone to leave Marshall Park via megaphone. People moving but slowly. #dnc2012

— Sarah Batista (@sarahbatistaTV) September 7, 2012
https://twitter.com/TonyWCNC/status/244111792673005568