This is terrible news to report, but it is a sign of times in which we live. You might be stuck on a train only to learn through social media that a woman is giving birth just up the tracks. Or that traffic tie-up on Washington, D.C.'s Key Bridge might not be a traffic accident but a suicide attempt.
Here's the official word:
Expect delays on the Dupont/Roslyn route
East and West bound. Due to an emergency
on Key Bridge.

— DC Circulator (@DCCirculator) January 8, 2013
News travels fast these days, and it doesn't take long to learn what's really going on ahead of you.
Jumper on key bridge. About to get shut down @WTOPtraffic @WNEWNews pic.twitter.com/EhzIJOnO

— DeAngelo Baynes (@DeAngeloBaynes) January 8, 2013
1/2 MPD & DCFEMS is on scene of a possible jumper OBKey Bridge, NW. OB/IB Key bridge is closed until further notice. AVOID THE AREA

— DC Police Department (@DCPoliceDept) January 8, 2013
MPD officers talking to man who is possibly threatening to jump from Key Bridge. @nbcwashington

— Jackie Bensen (@jackiebensen) January 8, 2013
https://twitter.com/FixWMATA/status/288770898557808641
Prayers. Photo frm my office "@postlocal: KeyBridge blocked person possibly threatening 2 jump: http://t.co/wapEk760" pic.twitter.com/4MofcFHF

— Burns Strider (@BStrider) January 8, 2013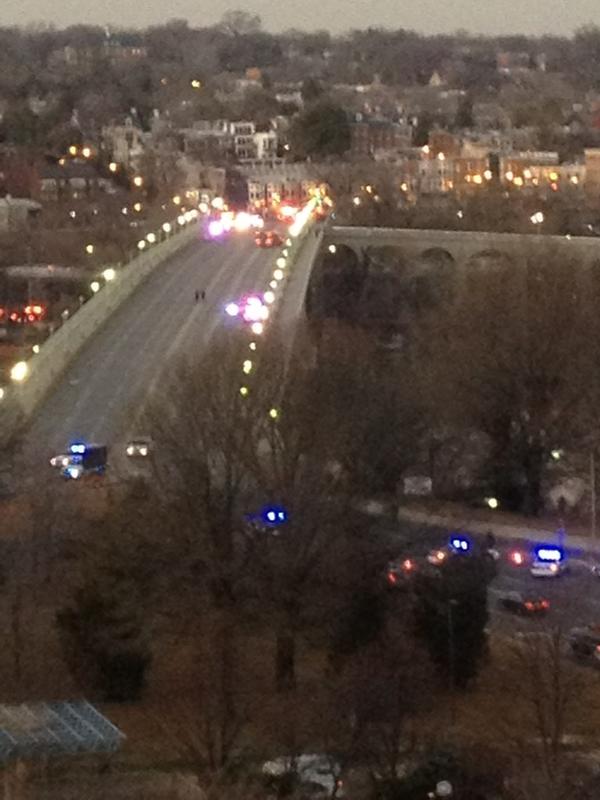 Key Bridge completely shutdown, cops everywhere @WNEWNews

— Sky Kerstein (@SkyKersteinFox2) January 8, 2013
The scene currently at Key Bridge and M ST. Also, no foot traffic either… #Georgetown pic.twitter.com/GGfYBl7d

— The Georgetowner (@TheGeorgetownr) January 8, 2013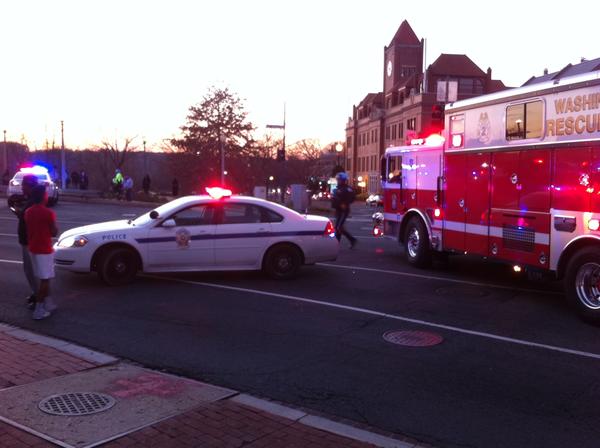 https://twitter.com/rowseeyo/status/288773536124919808
We certainly hope that's not the case, either. We don't have any official reports yet, but it doesn't look good. Twitchy will update as events develop.
#BREAKING: Key Bridge is shut down to cars & pedestrians in both directions. Possible jumper in water, police say.

— WUSA9 (@wusa9) January 8, 2013
@katiepavlich Wondered what that was about. Saw police boats headed that way when Yellow Line crossed the river.

— Gabriel Malor (@gabrielmalor) January 8, 2013
Keep calm out there if you can.
Thunderdome out there RT @ARLnowDOTcom Tempers flaring in Rosslyn due to major traffic backups, according to reports http://t.co/KOr0v76M

— Jimmy Rixner (@Hooks_Orpik) January 8, 2013
Brush fires on 270, president driving around Beach Dr in his full motorcade, no power in Germantown & the Key Bridge jumper. Park that car

— Taylor (@TC_Sass) January 8, 2013
Don't drive near Georgetown area. Traffic moving inches a min due to possible jumper on Key Bridge. Pray this ends well. #DC

— Luke Russert (@LukeRussert) January 8, 2013
Traffic heading to the #KeyBridge. There has been a jumper for about 2 hours pic.twitter.com/LpNLZZLJ

— Jason Collins (@JasonCollinsDC) January 8, 2013
* * *
Update:
After about three hours, police say they managed to take the man into custody and reopen the bridge to pedestrian traffic.
Update: Key Bridge, NW — MPD advised the subject is in custody; he's conscious/alert & traffic will be opening up momentarily./7066

— DC Police Department (@DCPoliceDept) January 9, 2013
Police just reopened the Key Bridge to pedestrians on the Va. side, thanking a crowd for its cooperation. Cars still blocked.

— Elizabeth Titus (@emtitus) January 9, 2013
(Hat tip: Katie Pavlich)
To change your comments display name, click here.