A second "Occupy Steubenville" rally held today in Ohio to demand action in an ongoing rape controversy certainly presents an unusual paradox. While those suspected of being complicit in the rape of a 16-year-old girl in August are well-known members of the community, many of the protestors have disguised themselves in the Guy Fawkes masks associated with the Anonymous movement, which specializes in computer hacking and operates under the chilling motto, "We do not forgive. We do not forget. Expect us." So … these are the good guys?
https://twitter.com/KYAnonymous/status/287650935939936256
As the case stands now, two 16-year-old boys, Trent Mays and Ma'lik Richmond, were arrested and charged and face a Juvenile Court trial Feb. 13. Why the protests, then? (The first Occupy Steubenville rally was held Dec. 29.) Many in the community allege a cover-up and insist that more boys were involved but were protected because they are noted athletes at Steubenville High. Others question the judgment of the 16-year-old victim, who was reportedly in a state of blackout intoxication.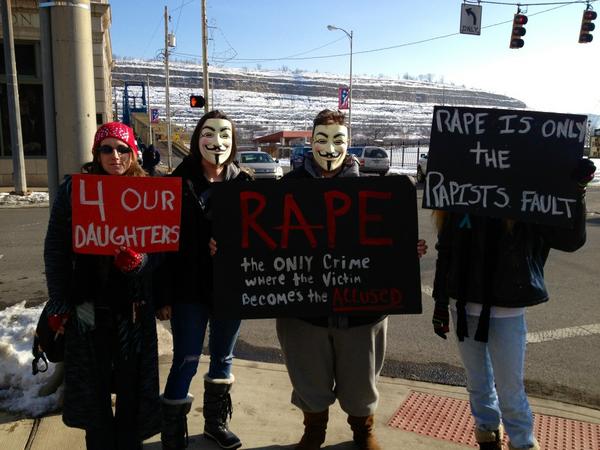 Outside observers such as Roseanne Barr, who has been a vocal supporter of Anonymous (and recently had changed her Twitter avatar to a Guy Fawkes mask with Roseanne features), say that racism is a factor in the arrests.
http://twitter.com/TheRealRoseanne/statuses/287349897034866688
Finally, add into the mix the element of social media, through which the early stages of the case played out in public. Mays' "before and after" tweets from August, for example, look like this.
The case eventually caught the attention of Occupy, and like it or not, the vast attention given to the group by the media and by politicians like Nancy Pelosi and Barack Obama helped give the group a powerful brand to leverage. Fundraising by "Occupy Sandy" in response to the superstorm which devastated parts of New York and New Jersey was an early attempt by Occupy to show its influence in other areas. But among those tools that groups like Anonymous employ is hacking. A site run by a Steubenville football booster called "Roll Red Roll" was hacked, and its owner now says on the site's home page that it was hacked "simply to get attention and terrorize the Steubenville community."
It certainly did get attention, and while many mainstream media outlets (with the exception of the New York Times) have overlooked the case, it has attracted enough of a spotlight online that the city and its police department have launched a website called Steubenville Facts. So while groups like Anonymous have leaked a disturbing YouTube video of students mocking the victim, the police are countering from their own perspective, noting that "nothing in Ohio's criminal statutes makes it a crime for someone to ridicule a rape victim on a video" and that police "are often frustrated when they emotionally want to hold people accountable for certain detestable behavior but realize that there is no statute that allows a criminal charge to be made."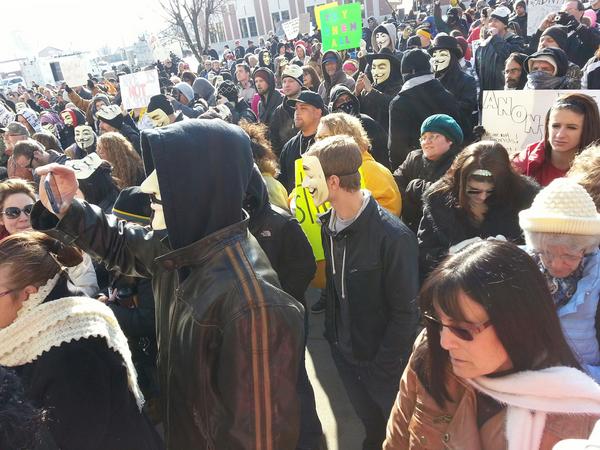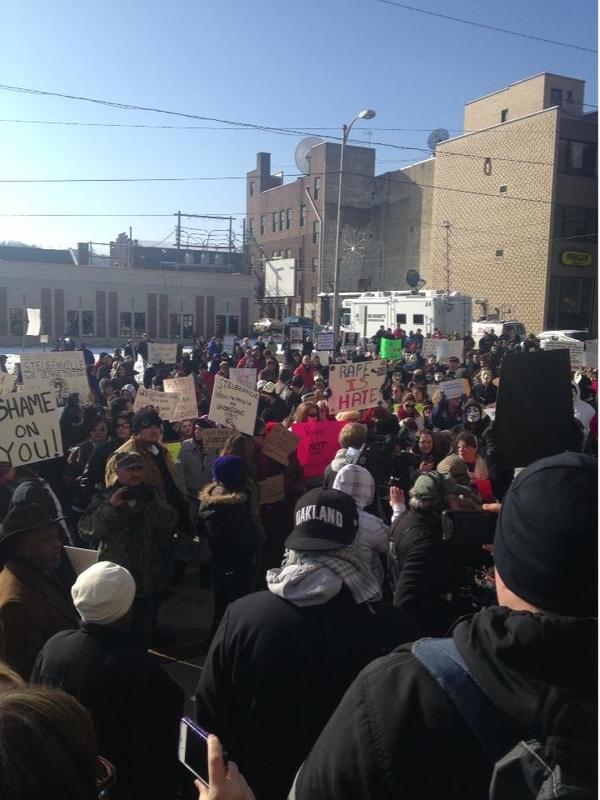 Sporadic leaks from a mostly disinterested media further complicate matters.
So even though suspects are in custody and a trial is scheduled, rallies such as the one today show that the public is hungry for more — but what? The fact that so many among that crowd are wearing the masks of a group known for hacking calls into question just to whom the police in Steubenville are considered accountable. Further, it leaves us wondering what cause will capture the attention of Occupy and Anonymous next — especially if those demanding a fair trial for the guilty aren't satisfied with the results.
https://twitter.com/KYAnonymous/status/287323878420799488
To change your comments display name, click here.