PNC Bank has been emailing customers today warning them of what appears to be a cyber attack on its online banking system.
Interesting: just received an email from PNC Bank (my bank) stating "A number of banks in the U.S. are under a cyber attack" #FiscalCliff

— Otis (@_Lightscap3s_) January 4, 2013
Just got email from bank (PNC) saying it's experiencing problems consistent w "cyber attacks on the US banking system"

— Brian J. Phillips (@brian_jphillips) January 4, 2013
According to PNC Bank a large number of financial institutions seeing attacks, resulting in DOS. Keep an eye on your statements.

— Matt Frew (@FrewBrew) January 4, 2013
https://twitter.com/scottinnj/status/287016636861530112
For better or worse, I only have one bank so I can't tell if #PNC is being proactive or overreacting re: cyberattacks? pic.twitter.com/VvCNMk6z

— Tim Gyves (@PGHomes) January 4, 2013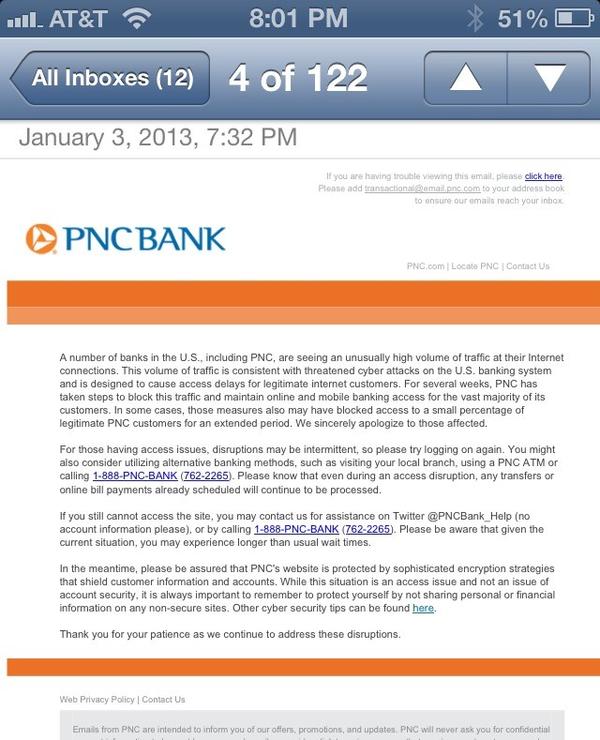 Wow, @PNCBank_Help issued email about DDoS-type "cyber attack" affecting them & other US banks. Sucks, been there! Hang in there!

— Michael Sheehan (@HighTechDad) January 4, 2013
PNC bank shuts down online banking citing weeks of high online traffic that looks like a cyber attack

— Daniel Newhauser (@dnewhauser) January 4, 2013
PNC Bank is under a cyber attack. Making me not want to pay bills even more. http://t.co/DoNCIo1u

— Brock Thompson (@Brockthomp) January 3, 2013
@PNCBank_Help – Why so many issues with online & mobile banking lately? Making a lot of customers quite nervous. Very frustrating!

— Ashley ✨ (@BuellaMarie) January 3, 2013
SWEET..I cant log into my PNC online banking bc of foreign cyber attacks..why r there so many foreign nerds pissed at us right now #getalife

— Reverend Reynolds (@JReeef) January 4, 2013
The Pittsburgh Post-Gazette reports that PNC and other banks were threatened in December with a denial of service attack in retaliation for — wait for it — an anti-Muslim YouTube video.
This week marked the fourth in a row that customers of Pittsburgh's biggest bank reported intermittent problems accessing their accounts.

Problems began Dec. 11 after a group called the al-Qassam Cyber Fighters threatened a round of denial-of-service attacks against PNC and a handful of other big banks by flooding their websites with communications requests. The group has said it is seeking the removal of an anti-Islamic YouTube video from the Internet.
"Qassam Cyber Fighters": Bank officials "must expect our massive attacks! From now on, none of the US banks will be safe from our attacks."

— Evan Kohlmann (@IntelTweet) January 1, 2013
Supporters of the Qassam Cyber Fighters are claiming that the group has disabled public access to the websites of PNC Bank and Wells Fargo.

— Evan Kohlmann (@IntelTweet) January 1, 2013
Just got an email from PNC telling my my online banking may be interrupted due to potential cyber attacks on the US banking system. Yikes.

— Chris P. (@chrispcream) January 4, 2013
Is anyone else getting a little nervous?
https://twitter.com/TheIslandRunner/status/287031331974684672
To change your comments display name, click here.