Several media outlets are reporting that Egyptian President Mohamed Morsi has put together a committee to meet with opposition leaders and draft an amended decree that would dial back the sweeping powers he declared for himself Nov. 22.
#BREAKING: Egyptian President Mohamed Morsi is preparing to amend his controversial decree http://t.co/GXEHlU5Z

— AFP news agency (@AFP) December 8, 2012
Egyptian TV:A press conference will be held in a while to announce the results of #Morsi's discussions with the political parties.

— Masaoud Seraaly (@MasaoudSeraaly) December 8, 2012
So #Morsi will come out with some amendments to the declaration? Really!! we need it "Cancelled" Mr. President

— Marwa Amr (@Mars_Amr) December 8, 2012
Agence French-Presse says the amended decree could be finalized as early as Saturday night or Sunday morning. Morsi also has suggested delaying a referendum on the recently drafted constitution, which had been scheduled for Dec. 15. Morsi had claimed his power grab was meant to stabilize the country until a constitution could be ratified, but it resulted in a large and sometimes violent ongoing protest centered around Tahrir Square.
Opponents of Morsi marched in Washington, D.C., and other American cities today to show their support for the opposition in Egypt.
Anti Morsi protesters in DuPont Circle in Washington DC #egypt pic.twitter.com/ElvN2tY5

— Missy Ryan (@missy_ryan) December 8, 2012
Photo from anti- #Morsi protest in #DC by a friend who is there #Egyabroad #solidarity #egypt pic.twitter.com/IhDDO4X1

— M.J.Y. (@sotsoy) December 8, 2012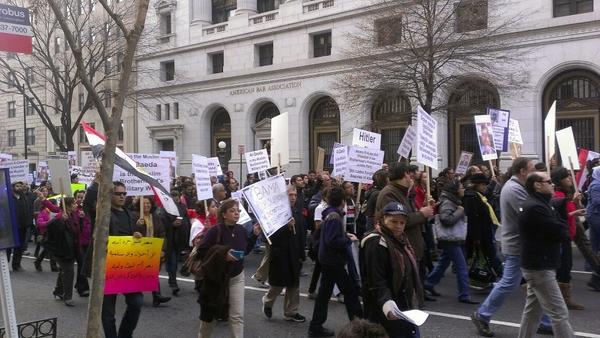 Morsi fled the presidential palace earlier this week, and protesters have reportedly attacked buildings where his family members live as well.
The building (in which Morsi's family lives has been attacked by protesters for the last two days).

— أبو كار (@Sarahcarr) December 8, 2012
Morsi's face scrubbed out on a sticker in the lift of his own house. pic.twitter.com/mpj7JaS3

— أبو كار (@Sarahcarr) December 8, 2012