As Twitchy reported earlier, thousands of Mohamed Morsi supporters took to the streets in front of Cairo University today in what's being called the "Million Muslim March" to show support for the new president. The rally culminated in Morsi's call for a nationwide referendum Dec. 15 on the country's newly drafted constitution.
Though those on the ground were reported to be chanting "Rule belongs to Allah alone," a scan of the Muslim Brotherhood's tweets gives a very Western impression of the proposed constitution and praises the limits on the president's power — a week after Morsi granted himself dictatorial powers and inspired an ongoing protest in Tahrir Square.
The Muslim Brotherhood, via its official English-language Twitter feed, is also publicizing several articles highlighting the democratic basis of the constitution.
Morsi's critics, though, are posting those sections of the proposed constitution that are more worrisome to the West.
https://twitter.com/MsIntervention/status/274981346663858177
Do side-by-side aerial photos of the anti-Morsi protest in Tahrir Square and the Muslim Brotherhood's march suggest that the constitution might not survive the Dec. 15 referendum?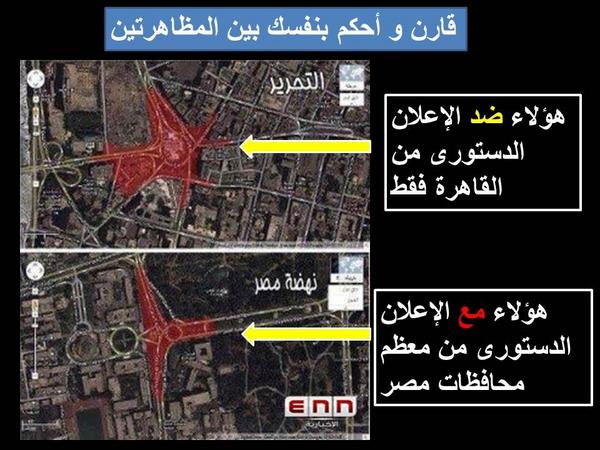 In fact, several observers noted that the large group of Morsi supporters dissipated very quickly once the announcement of a vote had been made, leaving opponents to ponder the nation's precarious situation.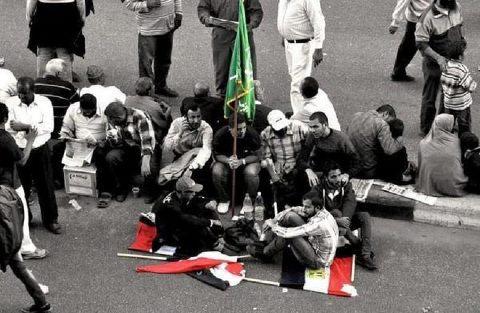 Amid the propaganda, the Muslim Brotherhood did find the time to respond to one critic.