If you're looking for a job as a corporate social media director, we suspect KitchenAid might have a position opening up after someone tweeted a tasteless joke about the president's dead grandmother. If that position's filled already, you might have another chance at ticket broker StubHub, where some people managed to capture this TGIF tweet before the company caught on.
https://twitter.com/janedevin/status/254407372129316865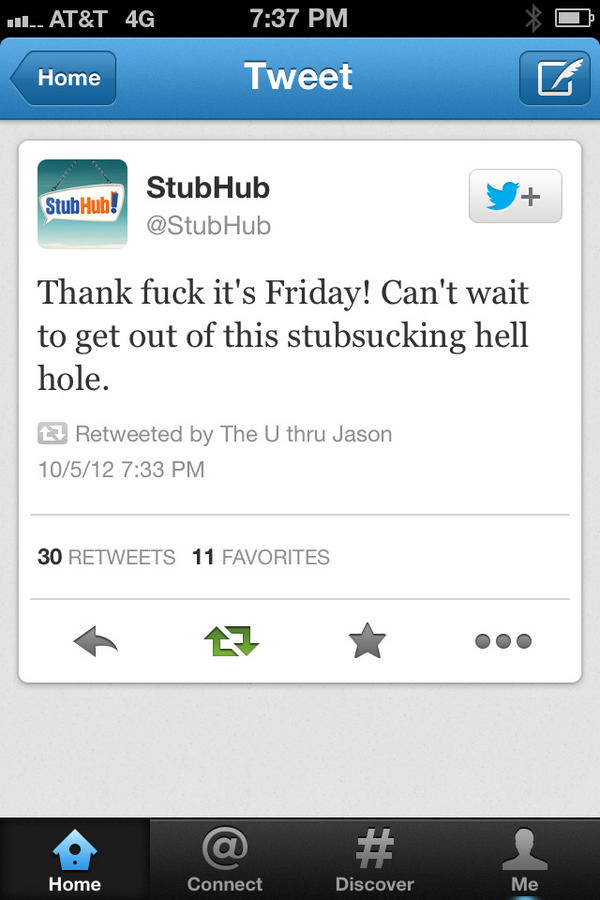 Oh dear @StubHub. I think we found where the Kitchen Aid social media manager ended up.

— Joe Yerdon (@JoeYerdon) October 5, 2012
The good news for that @Stubhub guy is that he probably won't have to go back to that "stubsucking hellhole" on Monday.

— Tom Fornelli (@TomFornelli) October 5, 2012
I can't stop laughing at this @stubhub thing. First rule of twitter club? Don't give your keys to someone who hates your company.

— Mr Lady (@mrlady) October 6, 2012
To change your comments display name, click here.