As Twitchy reported earlier, both the Obama campaign and the lapdog media have responded to the president's resounding debate loss Wednesday night by clinging desperately to Big Bird. Fortunately for them, hiding behind a large yellow puppet is made easier thanks to all of the volunteers happy to throw together a costume that vaguely resembles Sesame Street's feathered multi-millionaire but ends up more frightening than Code Pink's vagina costumes.
Earlier today we brought you this monstrosity spotted in Virginia, courtesy of Obama deputy campaign manager Stephanie Cutter.
Looks like somebody showed up in VA to ruffle @mittromney's feathers… http://t.co/P2j5MKma #protectsesamestreetnotwallstreet

— Stephanie Cutter (@stefcutter) October 5, 2012
"Big Bird" also made it to a Mitt Romney rally in Florida, and Democratic Party Communications Director Brad Woodhouse was quick to alert the media to this critical development. It's "an important message about priorities," obviously.
.@woodhouseb emails press: "An important message about priorities" and then this image http://t.co/GwNNjyv8

— Zeke Miller (@ZekeJMiller) October 5, 2012
Among the many people lined up for Romney in St. Pete is a man dressed as Big Bird. (via @PoliticsTBTimes)

— Alex Leary (@learyreports) October 5, 2012
This Big Bird has tiny eyes. #optics #romney #pbs @politicstbtimes pic.twitter.com/KRpIcyAk

— Katie Sanders (@KatieLSanders) October 5, 2012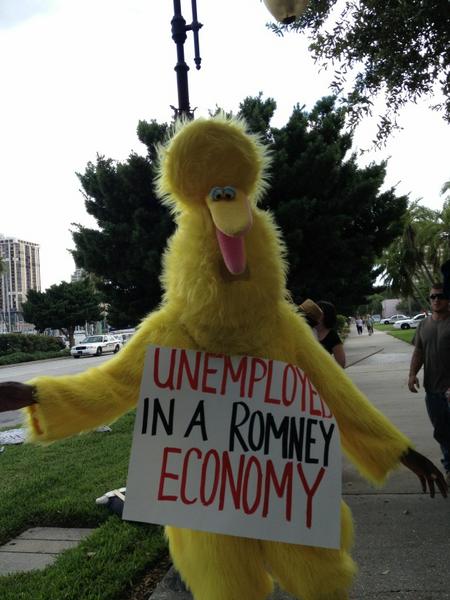 Black Eyed Peas singer and Sesame Street guest will.i.am has been tweeting vigorously in defense of Big Bird for days now.
Anyone who wants to end something that brings joy & knowledge to a childs heart & mind because money doesn't deserve to lead…#NOmitt #pbs

— will.i.am (@iamwill) October 6, 2012
It looks to us like these "Big Birds" are more likely to bring children terror and nightmares than joy and knowledge. Perhaps these concerned protestors could pony up for a licensed costume next time and send a few bucks to Big Bird that way.
Even better, if your kid is still looking for a Halloween costume, buy this, #SaveBigBird and get an awesome costume! http://t.co/biyP5hM5

— Liz Mair (@LizMair) October 6, 2012
ABC's Rick Klein knows how to ask the tough questions.
#debates unleashed some of worst Big Bird outfits known to man or muppet. can it be that hard to find a good one? pic.twitter.com/mNZ4WGZy

— Rick Klein (@rickklein) October 5, 2012
To change your comments display name, click here.