CNN and MSNBC pundit Mona Eltahawy was released from a New York jail cell today after being booked on charges of criminal mischief and graffiti. The Egyptian-American columnist and blogger was arrested yesterday after spray-painting a pro-Israel poster in a New York subway station.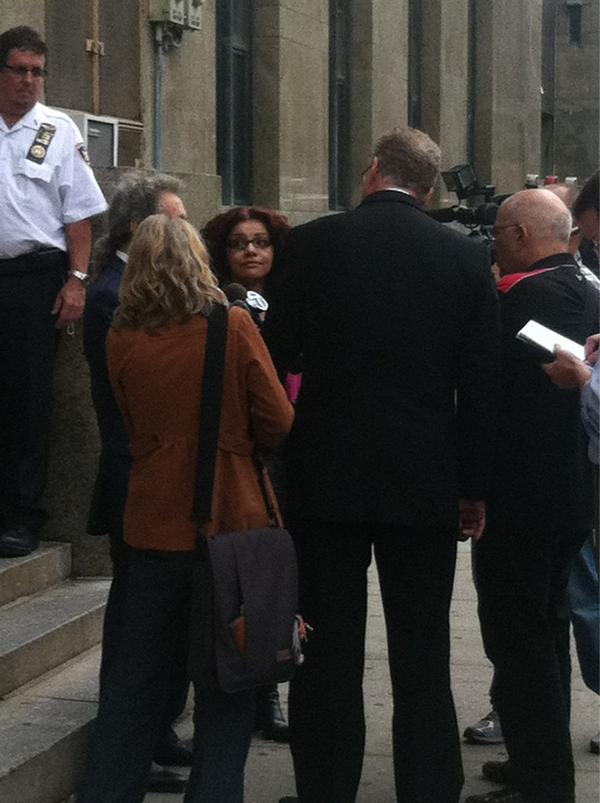 A camera crew was on hand yesterday to capture Eltahawy's vandalism in progress, as well as a confrontation with Pamela Hall, who tried to block Eltahawy. The poster, sponsored by the American Freedom Defense Initiative and blogger Pamela Geller, reads, "In any war between the civilized man and the savage, support the civilized man. Support Israel. Defeat Jihad." Ten of the posters went up in the subway on Monday, after the Metropolitan Transit Authority lost its bid to block the posters on the grounds that they contained "demeaning language." A federal judge ruled in July that the posters were protected speech.
Eltahawy had given notice of her plans on her Twitter feed.
After her release Eltahawy tweeted that she stands by her actions, saying that she "proudly" awaits her November court date and has "absolutely no regrets."
A former Reuters journalist, Eltahawy says the "whole point" of her act was that she only defaced the poster rather than tearing it down. As shown in the video, her argument is that spray-painting the poster was simply the application of her freedom of speech over the top of someone else's freedom of speech.
Eltahawy's arrest drew the attention of Arabic TV and spawned the #freemona hashtag, which was even tweeted by @IkhwanWeb, the verified Twitter account for the Muslim Brotherhood's English language website.
That was a retweet of Robin Morgan. Evidently the Muslim Brotherhood keeps tabs on the feminist activist and former Ms. Magazine editor.
One person offers a more likely explanation for the newfound common ground between Eltahawy and the Muslim Brotherhood.
As the United Nations General Assembly meets this week, New York City is already a charged environment with regard to free speech, what with the Organization of Islamic Cooperation calling for "adequate protection" worldwide against hate speech which targets Islam, and President Obama himself declaring that "the future must not belong to those who slander the prophet of Islam."
Americans with a better understanding of freedom of speech than "journalist" Eltahawy step in to clarify the First Amendment.
Forget that video which killed the U.S. ambassador to Libya and three others; this poster which drives cable pundits to commit vandalism is on the move.
https://twitter.com/ShahrazadKablan/status/251062506670415872
One Eltahawy supporter has a very American idea for a response.
Keepin' it classy.
To change your comments display name, click here.