Partisan remarks from the supposedly objective lapdog media? Say it ain't so!
"Real journalist" Pedro da Costa, who writes for Reuters, helpfully explained to his Twitter followers yesterday that Mitt Romney's release of his 2011 tax return was a "true sign of desperation." After several followers called da Costa on his editorializing the tweet disappeared, but not before it was screen-capped.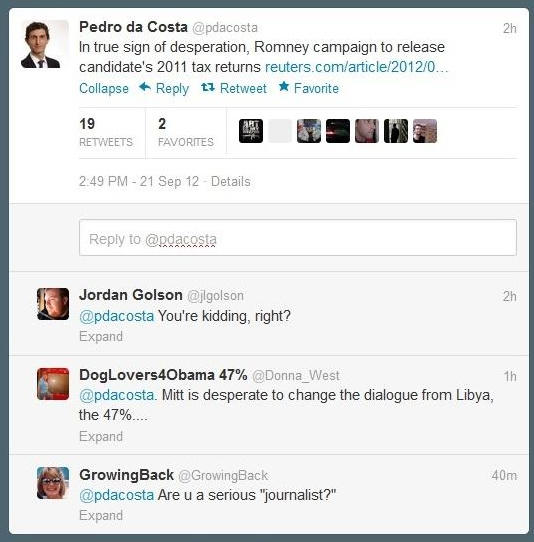 If anything could be described objectively as a true sign of desperation, it would be Sen. Harry Reid crowing on the Senate floor just two days earlier, "For all we know, Mitt Romney could be one of those who have paid no federal income taxes" — an idea planted in Reid's head by an anonymous but "credible" source.
Is it possible we could have our news without the desperate lapdog spin?
https://twitter.com/dlodato/status/249242607182557184
https://twitter.com/LeslieMHooper/status/249242835470127104
Memory hole? Not with Twitchy around. Congratulations Pedro da Costa on earning the prestigious "Deleted Tweet of the Day" award.
To change your comments display name, click here.