Two people are reported dead in Hazard, Ky., tonight after a shooting at Hazard Community & Technical College. Two suspects are in custody, and a press conference is scheduled for 9 p.m.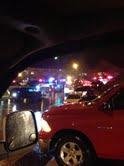 Twitchy will continue to monitor the situation and provide updates as they become available.
The incident is the second school shooting reported today, following an incident in St. Louis, Mo. Our prayers are with the victims.
Recommended Twitchy Video