s/o 2 Bruce Jenner sitting alone a row behind his family and Kanye West at the Clipper game pic.twitter.com/vu7M9wyt

— Jed lol (@post_presence) December 26, 2012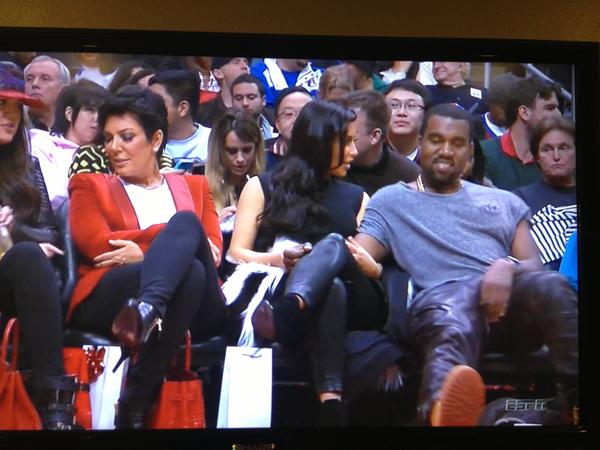 Olympic great Bruce Jenner took a backseat to his wife, daughters, and Kanye West at the L.A. Clippers basketball game tonight. Yes, that's him on the right in the second row behind his courtside-parked family. The dishonor had TV viewers abuzz on Twitter, which sent "Bruce Jenner," "Kim and Kanye," and "Kardashians" trending in the U.S. This is one well-oiled publicity machine.
https://twitter.com/SarahL_Cook/status/283790334528471040
https://twitter.com/BeeeRC/status/283790016688304128
Bruce Jenner has OLYMPIC GOLD MEDALS YO. He deserves better

— Rob Markman (@RobMarkman) December 26, 2012
It's sad that Bruce Jenner has Olympic gold medals and the Kardashians have done nothing in life, yet he's not sitting courtside. #ComeOnMan

— fatima alfaro (@Tima2Powerful) December 26, 2012
https://twitter.com/Aaron_OGundipe/status/283786372878315520
https://twitter.com/Ty_louise/status/283789804989190145
Kim K only got famous cuz of Bruce Jenner and she won't even let him sit in the front row at the clippers game? That's disrespectful

— Jared Gordon (@JGords16) December 26, 2012
Bruce Jenner is trending and they're just clowning on him lmaoo! How are the Kardashians gonna do that to the Olympic gold medalist!?

— Klogs (@JohnnySukka) December 26, 2012
"@tylermisha: The clippers commentator just went on a rant about how Bruce Jenner deserves to be sitting in front of Kanye at the game ?" ??

— ♚ ♚ (@TheKingOfCali) December 26, 2012
Good point:
Watching Nuggets vs Clippers Game. Mr. Jenner I wouldn't want to sit by them either!

— Aimee Mau (@ims808) December 26, 2012
Let's hope so:
Bruce Jenner didn't get banished from the front row. Nope! He chose to sit in a seat away from all the phoniness.

— Caramel Kisses (@ASouthernJule) December 26, 2012
Recommended Twitchy Video