Police in Newtown, Connecticut, are reporting multiple injuries after shots were fired at Sandy Hook Elementary School. Please scroll down for the latest updates.
Twitter users are scrambling to find information about friends and loved ones.
https://twitter.com/shelley1005/status/279604800549703680
https://twitter.com/jeffslametweets/status/279604829414903808
Photojournalist Kevin Wiles is listening to radio traffic and tweeting reports on the situation.
More from the scene of the shooting:
Parents are being asked to stay away from the school until further notice.
There are unconfirmed reports that two shooters are involved.
A teacher may be among the shooting victims.
SWAT teams are reportedly preparing to go in, suggesting that one or more shooters are still in the school building.
Per the state police, one shooter is dead.
Terrified parents are gathering at the scene.
https://twitter.com/jtes/status/279614673404456960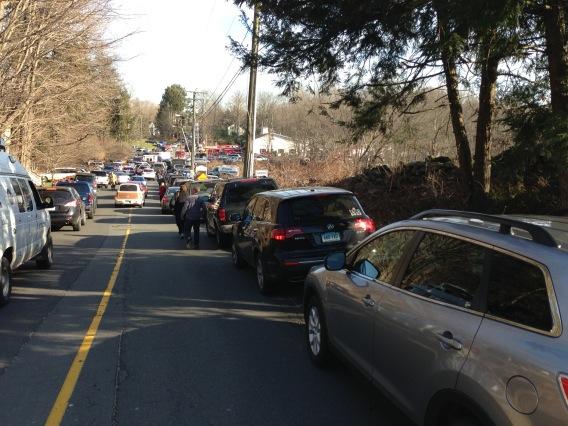 State Police have scheduled a presser for 1 p.m. ET.
The full extent of the injuries is still unknown, but multiple people have been taken to the hospital and there are reports that in addition to the shooter, at least one person is dead.
Reports suggest it is no longer an active shooting scene.
Connecticut Gov. Malloy is aware of the situation, but isn't providing additional details at this time.
Evacuated students are finally being reunited with their parents. One says his teacher was shot.
There are reports that the principal is dead.
Police confirm that two gunmen were involved.
One classroom has not been evacuated yet.
Children are reportedly among the victims. One child is reportedly dead.
School districts in other local towns are also on lockdown.
Two handguns have been recovered by authorities.
A rumor is circulating that the principal was targeted.
Just awful:
Danbury Hospital, where some victims were taken, is now on lockdown.
Early reports of a second shooter have not been confirmed.
More on the early stages of the investigation:
Chilling:
A school psychologist may also be among the victims.
The latest reports indicate one child, the principal and a school psychologist were killed.
It is expected the official death toll will rise.
ABC reports more than a dozen dead:
http://twitter.com/RunGomez/statuses/279639762594308097
This unspeakable tragedy gets worse: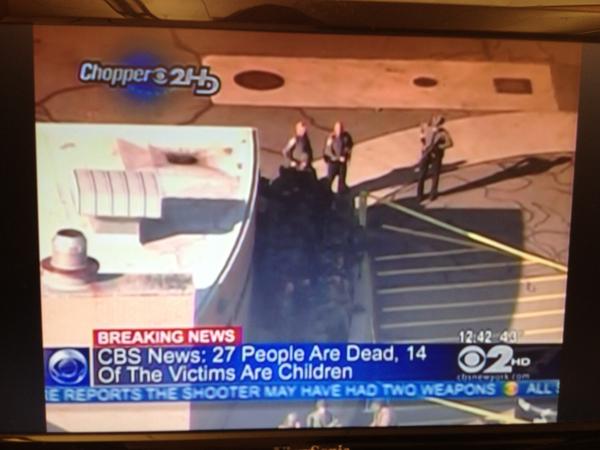 Officials tell the AP that 18 children are dead.
Details on the suspected gunman are emerging:
The details are changing as quickly as the reports come in, so take all with a grain of salt until confirmed by authorities.
A second suspect may be in custody.
Heartrending eyewitness reports continue to come in:
And more on the devastating news about the child victims:
The official word from the Connecticut State Police press briefing:
Horrifying new details:
The name of the alleged shooter has been released:
NBC's Pete Williams is confirming Lanza as the alleged shooter:
Horrible. Media outlets are reporting that Lanza's mother, a teacher at Sandy Hook, is among the dead:
NBC is now confirming that a family member has been found dead in Lanza's home:
That victim may be Lanza's father:
Just horrible.
Update:
The number of child fatalities now stands at 20:
Six adults are dead:
As well as the shooter:
Update:
Another body has been discovered, bringing the total number of fatalities to 28:
Lanza's younger brother is reportedly currently in police custody:
President Obama has called for flags to be flown at half staff:
And gave a tearful speech:
CNN is reporting that one of Lanza's brothers has been found dead:
And his girlfriend and friend are reportedly missing:
Some outlets are now saying that the alleged shooter's name is Adam Lanza:
The shooter may have been carrying Ryan Lanza's ID, accounting for the initial claims that Ryan was the shooter.
It appears that the media are now going with Adam Lanza, Ryan Lanza's 20-year-old brother, as the shooter.
The mix-up looks to have been the result of an error on the part of law enforcement.
Footage of a man in police custody: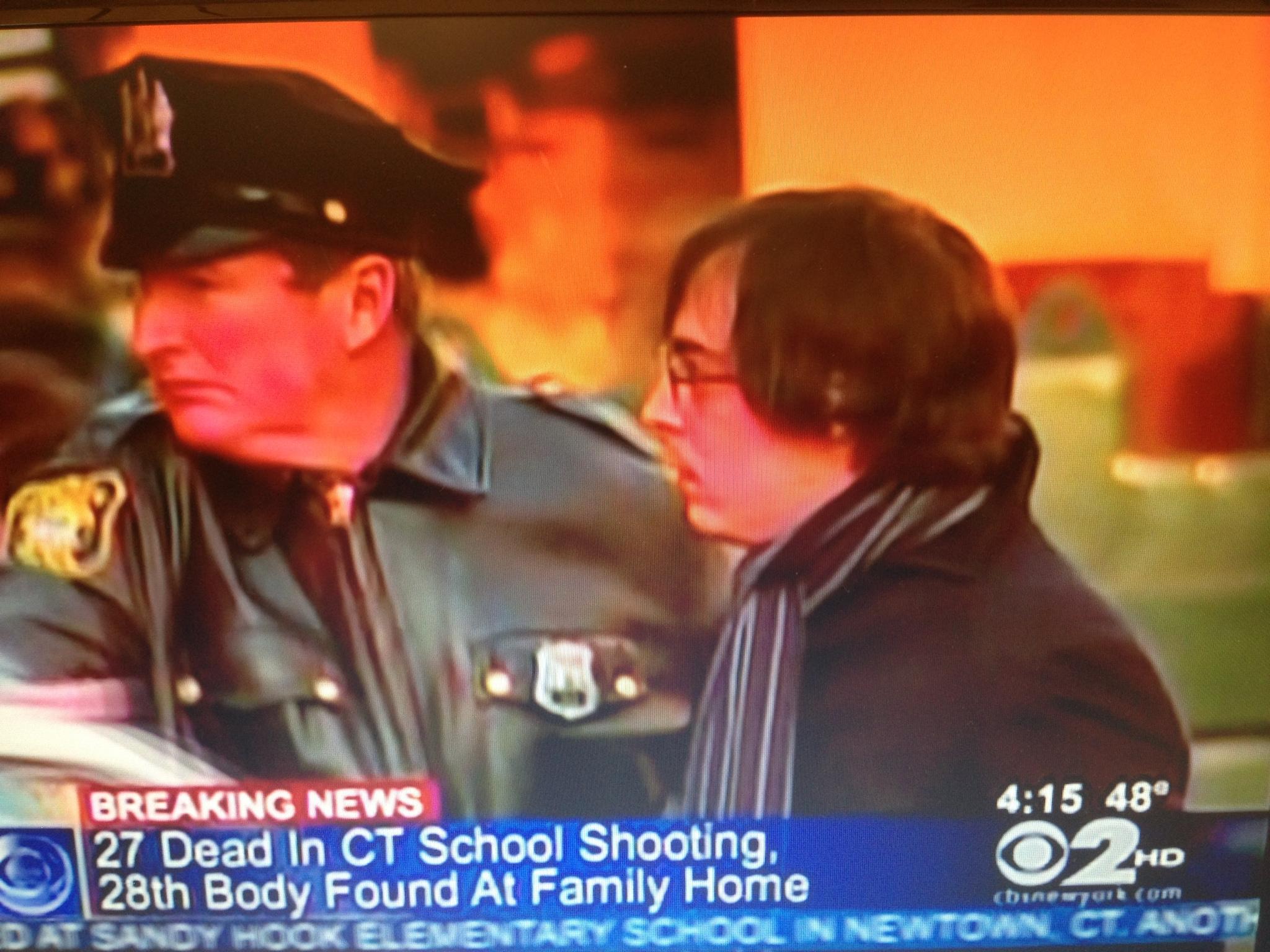 Update: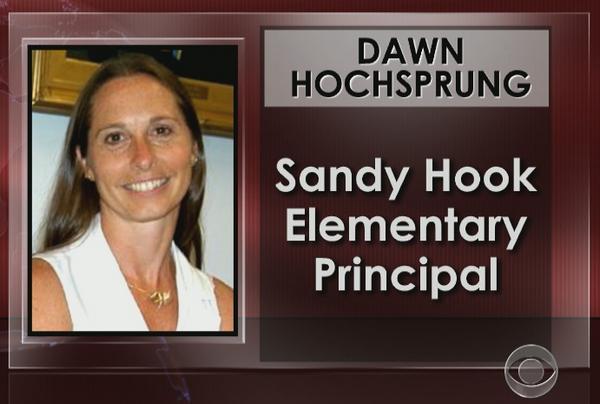 Heartbreaking.
The man shown on television being cuffed by police in Hoboken is indeed Ryan Lanza:
Update:
Adam Lanza may have been developmentally disabled or suffered from mental health issues:
A neighbor weighs in.
More details about the early moments of the shooting:
Update:
Recent reports indicate that Adam Lanza's father is not dead and is being interviewed by the FBI, along with Adam's brother Ryan.
The three guns reportedly used by the shooter were legally purchased and belonged to his mother.
ABC has released a photo of Adam Lanza, taken around 2005.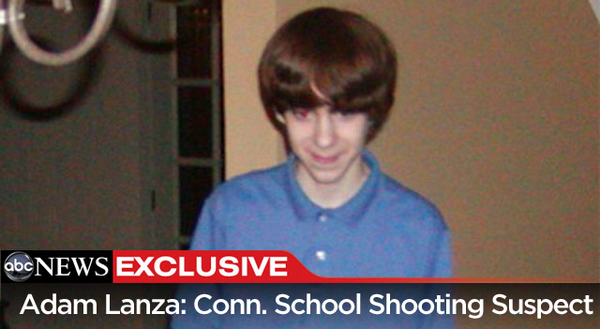 Another photo of Lanza: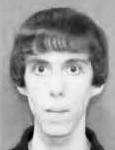 A Saturday morning news release from the State Police:
More details:
Contrary to earlier reports, Lanza was not buzzed into the school building.
Twitchy will monitor this developing story and update as more details become available. Please refresh your browser for the latest details.