Quentin Tarantino's "Django Unchained," a film set in the antebellum South, premiered in New York yesterday. As always, Tarantino can't resist his not-so-guilty pleasure: tossing around the N-word.
Whoa.. Drudge has me feeling very uncomfortable right now. pic.twitter.com/xK9FDK3i

— Peter Ogburn (@peterogburn) December 12, 2012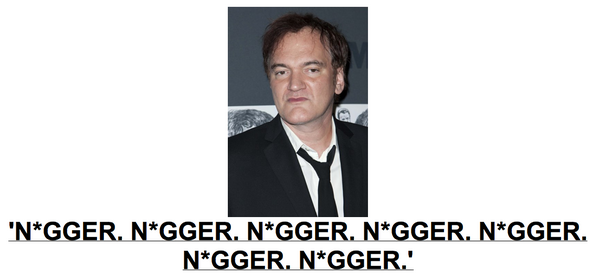 The sensational headline links to a Hollywood Reporter film review. "Quite naturally, given the historical setting, the N-word gets a heavy workout, by whites and blacks alike," the reviewer writes.
https://twitter.com/DaPlaneBoss/status/278853043229966336
Yes, it's shocking and uncomfortable. As it should be for decent people repulsed and unsettled by the dehumanizing term.
But rather than go after Tarantino for his apparent delight in liberal use of the N-word, many journalists and progressives are going after Drudge for his headline.
Leading the pack was Mother Jones reporter Adam Serwer, self-appointed issuer of licenses to call out racism. See, only progressives are qualified to comment on racial issues. Or something.
Matt Drudge living vicariously through Quentin Tarantino: http://t.co/Zl79WpIl

— Adam Serwer (@AdamSerwer) December 12, 2012
Civil Rights Activist Matt Drudge splashes "nigger" all over his front page, ostensibly as a critique of Tarantino http://t.co/Zl79WpIl

— Adam Serwer (@AdamSerwer) December 12, 2012
Actually not a fan of Tarantino's down white boy act, but Drudge is a tier one race baiter and anti-racist criticism from him is laughable.

— Adam Serwer (@AdamSerwer) December 12, 2012
Heaven forfend a conservative should highlight Tarantino's fetish for racial slurs!
Serwer was not alone. Many accused Drudge of race-baiting and racism.
DING. RT @Neurocat: @AdamSerwer @AngryBlackLady It's likely that Drudge did it because he's been dying to scream it himself. #psychology

— Imani Gandy (@AngryBlackLady) December 12, 2012
Ah, nothing like a little race-baiting from Matt Drudge to get the blood boiling

— Chris Haire (@haireofthedog) December 12, 2012
Has Drudge just been anointed a member of the K*K and this is his way of letting us know? I guess…congrats? #121212

— Solange U (@dcGisenyi) December 12, 2012
What race-baiting? Nice work, @Drudge. pic.twitter.com/Usirsyvf

— Slade Sohmer (@Slade) December 12, 2012
Yes, I can finally get away with typing "N*gger". I've been waiting for this day my whole life! — Matt Drudge. pic.twitter.com/0xchyyFw

— Wes Mc (@Westwit) December 12, 2012
Drudge has a little Michael Richards thing going on. That's just swell.

— jess mcintosh (@jess_mc) December 12, 2012
@DRUDGE Classy frontpage, you race-baiting, worthless scumbag

— Chris Stevens (@ChrisStevens612) December 12, 2012
Looking at big Drudge hed, think it's the first time I've seen a site libel the article it links to with the link (from Hollywood Reporter).

— Kamal Khan (@TSTContinental) December 12, 2012
@RadioGuyChris Drudge race baiting attack. pic.twitter.com/fXwUL7EY

— SmarterXFaster (@Ohrealitybites) December 12, 2012
Any excuse for Drudge to indulge in his favorite pasttime… http://t.co/PPT17eM0 via @AdamSerwer

— Wes Mc (@Westwit) December 12, 2012
I think Drudge just had his first orgasm since 1997: http://t.co/5dCJQrF7

— the life of jesse (@jesseltaylor) December 12, 2012
Hey, Matt Drudge: Tell us how you *really* feel! http://t.co/FE5kBEd2

— Anna Holmes (@AnnaHolmes) December 12, 2012
Let's see progressives call out Tarantino for his infatuation with the N-word. Until then, this is nothing but predictable liberal pearl-clutching and hypocrisy.