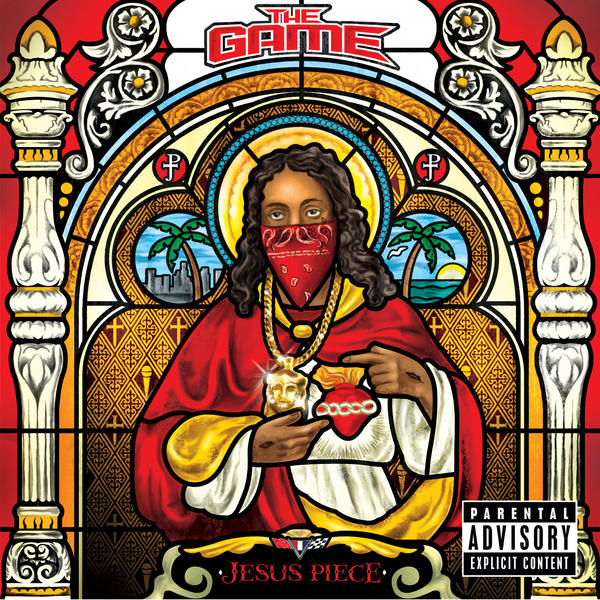 Holy controversy. Check out the cover of rapper The Game's new album released today. Here's the Wikipedia description, for what it's worth:
The Game released a controversial artwork of the album via Instagram on October 21, 2012 and also announced the release date will be December 11. The cover portrays a dark-skinned Jesus in a stained glass window with a teardrop tattoo, a red bandanna around his mouth, and he is wearing a Jesus piece.[13] In the artwork beside Jesus, are symbols of cannabis sativa leaves. The stained glass-inspired image shows Jesus sitting on a throne adorned with gang-related symbols. In the artwork, Jesus is holding a gold "Jesus Piece" chain and pointing to a symbol on his breast plate. The red bandana over his mouth is a reference to the Compton Piru Bloods gang, to which Game is allegedly a member.[14] The coconut tree symbolises the Tropics and leisure life. The artwork has a slightly altered logo on the top, which features on all of the previous Game's studio albums. The album's title Jesus Piece is stylized as Je5us Piece, depicting that it is Game's fifth studio album. Je5us Piece logo is styled after the iconic Louis Vuitton. The religious imagery of the art has gained mixed reviews and the ire of some fans who deem the work as blasphemous.[15]Several celebrities praised the artwork including, rap veteran Busta Rhymes, Mac Miller and Kevin Hart.[16]
Reaction today on Twitter is mixed:
https://twitter.com/SheriefDuvane/status/278408139555086336
https://twitter.com/22Borriello/status/278536394375311362
We agree with "dope," though we know it doesn't mean what the Jesus Piece cheerleaders think it means.
Exit question: Would The Game dare to do to Allah what he did to Jesus Christ? Just asking, though we already know the answer.
Peace out.
To change your comments display name, click here.