As we reported yesterday, Mitt Romney and President Obama had a date for a lunch summit today. Alas, the media was shut out and did not receive a coveted invite.
Closed press! Oh noes, what are they to do? Unrequited love, it hurts. Looks like they will have to wait for Flickr photos, like the rest of us.
They stake-out the lunch anyway.
The wait pays off, sort of!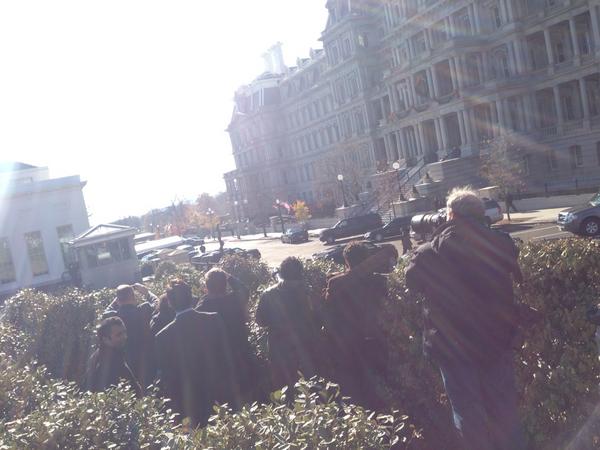 Bless.
Heh. Keep tweeting, Mr. Knoller!
The lunch wallflowers whine.
Maybe Carney will let them crash?
No such luck. Waah! Sorry, lapdogs, they just aren't that into you.
ABC pitifully makes up its own lunch conversation. Hey, lapdogs can dream about being there, can't they?
Aww, it's just like you were there, huh, Rick? Now you have some more material for another junior high poem!
No worries; Twitter journos to the rescue! They will just pretend they are there. Fake lunch tweets begin.
Yuk, yuk, yuk.
And the New Yorker's Ben Greenman fake live-tweets the lunch.
Alas, it's over.
Maybe y'all will be invited to the lunch-prom next time, media!
Update: The sad state of affairs, summed up in one tweet.
Bingo.