Surreal … and decidedly unappealing. But, uh, feel free to click the images if you want a gander at the uncensored versions. Warning: nude protesters are never easy on the eyes.
If you insist on naked protesting, at least be hot… http://t.co/TALkhqMF

— Dina Fraioli (@DinaFraioli) November 27, 2012
Naked protestors storm House Speakers office in DC. Probably the same people you don't want to see on a nude beach.

— Paul Stanley (@authorstanley) November 27, 2012
Seriously.
"Act up, Fight Back, Fight AIDS," chant naked protesters and supporters in Speaker Boehner's office. pic.twitter.com/oZkBOIv1

— TheFightBack (@fightbackradio) November 27, 2012
RT from @jwestcottphoto Naked AIDS Research protestors in Congressman Boehner's Longworth office. http://t.co/KZlmE79P @GeorgeTakei #usa

— Samuel Corum (@corumphoto) November 27, 2012
@AnnieLowrey @sahilkapur That could result in the greatest headline in history.

— dennisjordan (@dennisjordan) November 27, 2012
the office boehner doesn't use. RT @ElaheIzadi: Nude protesters are in Longworth, not Boehner's Capitol office.

— Jake Sherman (@JakeSherman) November 27, 2012
The seven naked AIDS activists are staging a PR stunt protesting budget cuts at an office the Speaker of the House doesn't use.
We're facing a non-Boehner naked protest.
And a non-boner non-Boehner protest (NSFW).
And is it a staged non-Boehner naked protest? You betcha.
I find it amazing that a dozen or more journalist just happened to be in Boehner's office at the time of the nude protest.

— Joe Brooks (@joebrooks) November 27, 2012
One protester insists the government is stripping people naked.
"the truth is, that people with aids have been stripped naked by the gov't" – Jennifer Flynn @jenniferflynn @HealthGAP

— Stdnt Glbl AIDS Cmpn (@FightGlobalAIDS) November 27, 2012
Sorry, doll. That breeze you feel? You built that.
More brilliant thoughts from the streakers in Boenher's office:
"BOEHNER, BOENER DON'T BE A DICK! BUDGET CUTS WILL MAKE US SICK!" Naked AIDS Protesters in Speaker Boener Capitol Hill Office RIGHT NOW!!!!!

— David Ernesto Munar (@dmunar) November 27, 2012
Expect Twitter's punsters to be out in force on this one, providing one another stiff competition for the cheekiest comment of the day.
Update:
Video at the link … if you're so inclined:
Brief and baring video of nude demonstrators at @speakerboehner's ofc. protesting potential cuts to HIV/AIDS programs: http://t.co/eOChrpvT

— Ashley Southall (@AshleyAtTimes) November 27, 2012
Arrests and Twitter mockery ensue:
after media left, naked #AIDS activists from @HealthGAP &@queerocracynyc were arrested after Boehner budget cuts action pic.twitter.com/qixPqYe7

— VOCAL-NY (@VOCALNewYork) November 27, 2012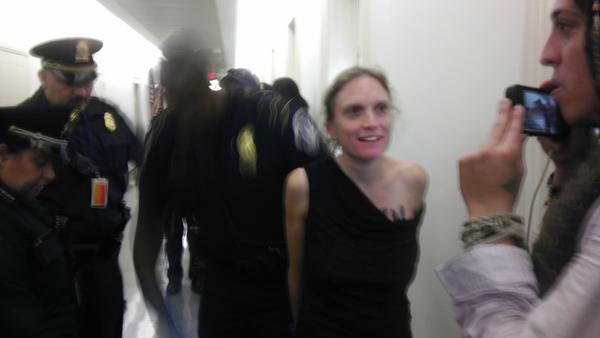 For once, I wish there had been a govt cover-up. RT @TwitchyTeam: Nude activists protest in Boehner's office http://t.co/qPQ4tBGx

— Michelle Malkin (@michellemalkin) November 27, 2012
Yep. RT @amandacarpenter: Who is having the worst day in Washington? The poor staff assistants greeting guests in Speaker Boehner's office.

— Daniel Wanke (@danielwanke) November 27, 2012
If I am ever going to protest naked it will be for something cool. Like bacon or whiskey.

— sarah (@mamaswati) November 27, 2012
There are actually people who woke up today and said " today, I'm going to get buck naked in front of John boehner's staff."

— john r stanton (@dcbigjohn) November 27, 2012
He would blush but, you know. RT @BreeTheWanted: There are naked protestors outside John Boehner's office…. #tcot #p2

— Jeff (@MooseOfReason) November 27, 2012
Will not make Boehner joke. Will not make Boehner joke. Will not… MT @MattLaslo At Boehner's office. AIDS Day protestors getting naked.

— Chris Moody (@moody) November 27, 2012
Heh…naked with Boehner…#beavislaugh

— Brandon Morse (@TheBrandonMorse) November 27, 2012
No I will not click the 'nudists storm Boehner's office'. WTF is wrong with the unhinged left? Keep your damn pants on. Criminy.

— LMR (@LilMissRightie) November 27, 2012
That's a win. RT @bdomenech How about we require all lobbyists to do so naked? It's refined prostitution anyway.

— KnightsofMalta (@JeanValette) November 27, 2012
Depends on what meaning of "naked" is. RT @baseballcrank Naked budget protests is just a transparent gambit to get Bill Clinton back to DC.

— The 12th Fan (@Josh_Painter) November 27, 2012
Only thing that would have been worse: #nudeprotest Gangnam-style

— Michelle Malkin (@michellemalkin) November 27, 2012
Oh, my. A Twitter user offers a much-needed palate cleanser for the ladies:
Endorsed. RT @AlexaShrugged: @mamaswati UGH. I'm just going to imagine Paul Ryan naked in Boehner's office…I mean, WHAT?!

— sarah (@mamaswati) November 27, 2012
Update:
This one's a winner:
http://twitter.com/NathanWurtzel/statuses/273515482546581504
Recommended Twitchy Video