Earlier today, Twitchy told you about actor Jamie Foxx's cultish, outrageous remarks about President Obama being "our Lord and Savior." Now, Fox News' Todd Starnes reports that a painting depicting Obama as a crucified Jesus Christ is on display at Bunker Hill Community College in Boston. According to Starnes, the painting was originally supposed to be displayed nearly four years ago at an event in New York City, but the event was canceled due to public outcry.
[Artist Michael D'Antuono] dismissed critics who called the display blasphemous.
"The crucifixion of the president was meant metaphorically," he told Fox News. "My intent was not to compare him to Jesus."
Is that so?
D'Antuono blamed the controversy on conservative media "trying to promote the idea that liberals believe the president to literally be our savior."
D'Antuono can play the blame game all he wants. But one look at the painting, called "Truth," is enough to show that the criticisms he's faced are more than well-deserved: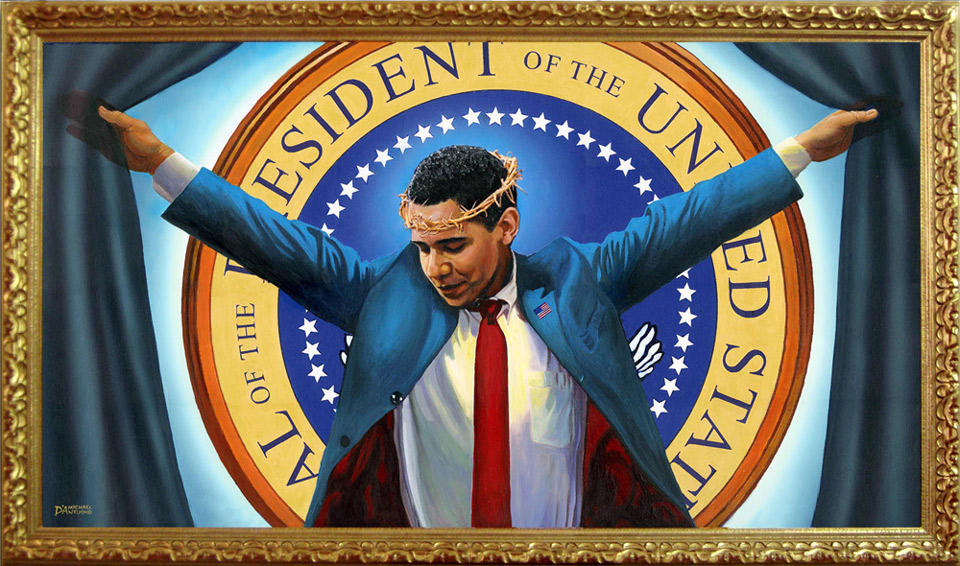 Conservatives are livid over this latest example of the deification of Barack Obama:
https://twitter.com/genelingerfelt/status/273179932912390145
https://twitter.com/Comptra11/status/273180515257966593
"Disgusting" doesn't even begin to describe it.
***
Related:
Obama campaign now selling its version of American flag, complete with 'O' logo
Recommended Twitchy Video