As Fox News awaited Nancy Pelosi's announcement about the snooze-y news that she'll remain House minority leader, the network's chyron mistakenly identified her as a California Republican. Oops: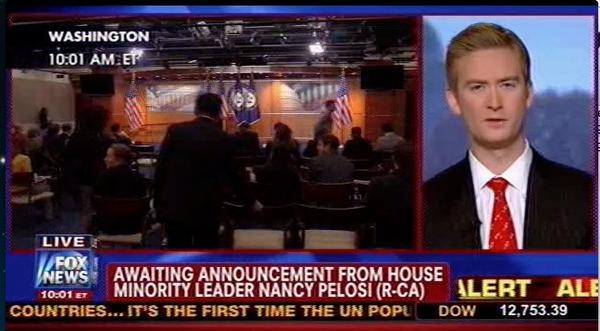 But Fox wasn't alone. As Twitchy reported earlier, Pelosi excitedly announced that she'd won the Speaker's gavel back. Does Pelosi think she's a Republican too?
Oops, Nancy Pelosi says Dems have majority caucus of women and minorities — and the gavel. Then corrects herself, "We don't have the gavel"

— Jonathan Weisman (@jonathanweisman) November 14, 2012
Sorry, doll. Dream on. The GOP still has control of the House.
That's right @NancyPelosi, you do not have the gavel.

— NRCC (@NRCC) November 14, 2012
Mockery from the Twitterverse and video here.
To change your comments display name, click here.