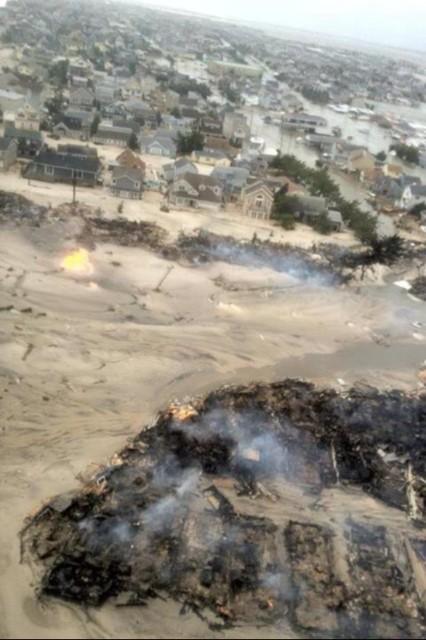 Hurricane Sandy has been hammering New Jersey for days now, and Seaside Heights, where "Jersey Shore" is filmed, has really taken a beating. Floods have ravaged the borough, and Jersey residents are heartbroken:
Just saw seaside update on TV! This is crazy living there for 4 summers & seeing in such disaster! What do u mean no more boardwAlk?

— Ronnie Magro (@RealRonnieMagro) October 30, 2012
50 feet of the pier at seaside heights collapsed!!! This is so depressing! #screwyousandy

— Emily (@em_herbs) October 30, 2012
https://twitter.com/franynany/status/263357674958245888
Seaside heights is a wreck, so scary

— Kerri Kapczynski (@kerrikapczynski) October 30, 2012
seeing what happened to seaside heights is devastating

— spencer (@4nn4suckz) October 30, 2012
https://twitter.com/TonOffield12/status/263362941263425536
https://twitter.com/zoo_kiss/status/263351642559221760
What New Jersey's Seaside Heights Funtown Pier used to look like. pic.twitter.com/UmweM5HP

— ☀️Lauren☀️ (@chocolatlvr) October 30, 2012
Roller coaster swept out to sea (Seaside Heights, NJ) http://t.co/LITwZ1Sh

— Mike Hayes (@michaelhayes) October 30, 2012
https://twitter.com/ariscott/status/263337965802123264
Damn RIP seaside heights new jersey. pic.twitter.com/evyILN2n

— amanda (@__AmandaOyola) October 30, 2012
This is true. RT @JohnLeighty1: @chrismayphilly Rumor has it that Seaside Heights pier is wiped out! Any truth to it? pic.twitter.com/RxGLWP2y

— Chris May (@chrismayphilly) October 30, 2012
heartbreaking RT @EddieTrunk: "@ThePaperArmy: @EddieTrunk Seaside Heights. pic.twitter.com/OKigLhUk" wow, awful. Been going there my whole life.

— Damon (@dfibraio) October 30, 2012
The New Jersey National Guard shot this aerial footage earlier today:
For many people, the destruction of iconic Seaside Heights symbolizes the loss of a part of their lives:
R.I.P. Seaside Heights you will be forever missed #thecabsarenolongerhere #jerseyshore

— △⃒⃘nthony Najarian ⇞ (@AnthonyNajarian) October 30, 2012
I'll be reserving sleep for dreams of my summers in Seaside Heights, now destroyed.

— Lauren Neal (@TheLaurenNeal) October 30, 2012
As one of the millions who grew up spending summers at the Jersey Shore, the devastation at Seaside Heights is saddening. #Sandy

— SP Gordon (@GordonPress) October 30, 2012
Rest in peace seaside heights

— The M_O (@itstheM_O) October 30, 2012
50 years from now we can tell our grandchildren about a great place called "Seaside Heights"

— TC Weber (@TC_weber9310) October 30, 2012
So many summers down in Seaside Heights, and it's gone. ): If you want to help, please donate at http://t.co/82BwcMcx! pic.twitter.com/jALLE3sz

— Annika (@NikkkaPlease) October 30, 2012
We extend our continued thoughts and prayers to those affected by Hurricane Sandy.
Related:
Pics: Hurricane #Sandy already taking toll on Atlantic City, Jersey Shore; Updated: Devastating photos
To change your comments display name, click here.