Mitt Romney and Paul Ryan held a rally at a packed Red Rocks Park and Amphitheatre in Morrison, Colo., tonight. It was a sight to behold: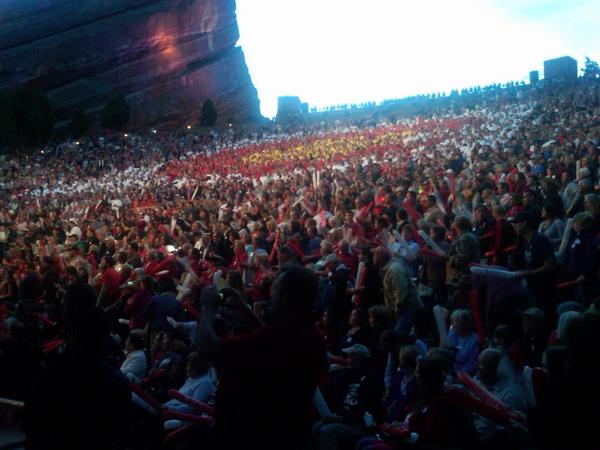 (Picture by @Timodc)
And from the top of the venue:
(Photo by @dmitchell624)
Red Rocks officially holds almost 9,500 people. There were just a few more ticket holders than could be accommodated:
https://twitter.com/DillonMThomas/status/260875039623221249
My wife and daughter tried to go to Romney rally at Red Rocks and were turned away. Packed house sellout. Couldn't get close to event.

— Rick Lewis (@1RickLewis) October 24, 2012
So sad. Waited 2 hours in line and did NOT get into Red Rocks to see our future President Romney. Thousands turned away!!!!

— S McManus (@SMcManus5) October 24, 2012
Drove 500+ miles to Romney rally at Red Rocks. Didn't get in. Don't mind (much). Crowd huge. 1000s couldn't get in. This is a good thing.

— Bill Hobbs (@billhobbs) October 24, 2012
Enthusiasm? You could say that.
Romney/Ryan event in Red Rocks Colorado. More people came than the amphitheater could hold. Momentum grows even more! pic.twitter.com/nhc4hxH5

— Dennis Mitchell (@dmitchell624) October 24, 2012
@dmitchell624 Shorter Mainstream Media: Bump is gone, Hundreds show up for Romney/Ryan. Media fools. GO COLORADO!!!!!!!

— U.T.A. (@members4) October 24, 2012
I hope all Americans see this Romney speech at Red Rocks. It is heartfelt, sincere, patriotic & determined. http://t.co/e3Tr3CdN #tcot

— Navy Doc (@SereDoc) October 24, 2012
Crowd at Red Rocks has many more young people than typical Romney crowds. #2012

— Kasie Hunt (@kasie) October 24, 2012
Amazing event in Colorado, Red Rocks. People holding signs "Democrats for Romney" At least 9,000 attended.

— smile (@27jaaw27) October 24, 2012
Justin Romney or Mitt Beiber? MT @PhilipRucker: Thousands of Coloradans are screaming Mitt's name at Red Rocks. Like at a Bieber concert.

— Darrel Ng (@DarrelNg) October 24, 2012
Hey @MSNBC @Maddow – have you seen this shocker in Red Rocks, CO? This is the crowd for O,,, NO! – ROMNEY! http://t.co/UgT7lV5n RT

— SP Gordon (@GordonPress) October 24, 2012
Oh, they saw it, SP. Here's your proof:
Hope reporters remind their audience Romney/Ryan's Red Rocks event is occurring in a facility built by the gov't via FDR's socialist CCC.

— David Sirota (@davidsirota) October 22, 2012
Romney rally at Red Rocks raises spectre of FDR, New Deal http://t.co/fBGjEZW3

— HuffPost Denver (@HuffPostDenver) October 23, 2012
Colorado Dems pointing out the irony of Romney event at Red Rocks, which was built entirely w/ public funds in 1930's. http://t.co/mnulJNVG

— Garrett Haake (@GarrettHaake) October 24, 2012
Do you think conservatives let that weak talking point slip by unchallenged? Of course not.
@GarrettNBCNews Do they also point out the irony of Romney using a highway which was built with public funds. Or how about the airport.

— GarCasey (@GarCasey) October 24, 2012
@GarrettNBCNews ummm… So are all the streets and town squares where Romney has had rallies.

— ScrollnKey (@ScrollnKey) October 24, 2012
Romney credits the power of God for the beauty of Red Rocks. Cue indignant Tweets about the WPA in 3… 2… 1…

— Megan Verlee (@CPRverlee) October 24, 2012
Feel that, libs? It's momentum — and your guy doesn't have it. Just ask Sandra Fluke.
To change your comments display name, click here.